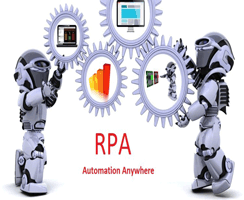 Needless to say, Robotic process automation is going to rule this generation. It is a well-known fact that RPA is creating thousands of jobs every year. Almost all the business related companies are converting their businesses into automated work environments, which is inevitable for the efficient productivity.
So you may wonder what's so special about RPA courses. There are some important reasons to ponder to learn these RPA courses.
One of the biggest advantages of using a virtual workforce or an RPA bot is that it does not require you to replace your existing systems, which means that both sit on top and alongside your existing infrastructures. So to do your work, you'll need some additional software and virtual machines to deploy fully independent digital workers or normal sports but you won't need to rip and replace your existing infrastructures. Therefore our PA does not pull down your existing systems but it leverages them.
It's a fact that software migrations are time-consuming and costly. Migrating to a new ERP or any AMA could take years and cost tens or hundreds of millions of dollars. What's even more frustrating is that at times certain features and functionalities which may have functioned in a particular way in the previous software versions may not be even present in the updated versions.
RPA is not a theory based subject to learn.  It is based on experience and practical work. With the help of robotics process automation manual work is reduced. RPA system is very easy to use and implement because it focuses on providing help to end users to navigate. It also makes the employees realize which work is to be done more conveniently and quickly.
Suppose if a workflow isn't working properly, you can make changes instantly and see how effectively these changes impact your end result. A security breach of data is an unfortunate instance. And if such leaks occur, then businesses almost get ruined since the data are stored in a central repository and if you are using RPA, it ensures that the setting of accessibility is done by the employee. That means only the right people will have the access to the data that pertains directly to their workflow. Anything else that they're not supposed to see will remain encrypted and safe from prying eyes.
Software bots can work all the time – 24-hours a day for the complete year, at 100% capacity. If your process changes and the bots need to learn something new, you can either replace them with new bots or alter their programming.
As our data sources and analytic capabilities have grown, so has the time required to build various reports increased. The Robotic Process Automation system is the ideal solution to solve these types of problems. The system stores the information and it can also remember and transform this information very easily, that means this makes you auditable and tax ready.
According to indeed.com, the average salary for an RPA developer ranges around 110,000 dollars per year. Not only at an individual level but many hyper-growth companies like Dell or Accenture, IBM, Cognizant, Capgemini use robotic process automation in the companies to enhance the growth in the scaling industry.
A process which saves both time and money is the most essential criteria for any business to get successful. It is very important to find the right balance between time and revenue to get process done in a business and robotic process automation is will help you to achieve that. The repetitive tasks earlier needed constant attention of employees but they can be completed easily with robotic process automation. This not only saves time but it also saves money. The employees who were assigned to these tasks can now give their focus to something more important. Studies have shown that 49%of the tasks that a person completes can be done by automated technology and this is a huge thing in today's economy. 
When systems do not know how to sync with dynamics then it requires entry if data twice into the CRM system. This is done so that everything can be tracked. With the help of RPA this problem can be solved. Robotic process automation will delete the unnecessary task of double entry of data a bad creates the agile and dynamic transfer of information among the systems. Now with the help of the RPA system, the documents in the ERP system can be read from without any problem.
Breach of data is an unfortunate incident and if such leaks occur then businesses get almost ruined. Since the data are stored in the central repository if you are using RPA, it ensures that the setting of accessibility is done by the employee. This makes sure that the right person will handle the data that is linked to their workflow otherwise the non-required data are encrypted thus safe.
Learn this Course to Easily Get a Job
RPA Interview Questions and Answers
Blue Prism Technical Interview Questions and Answers | Hope Tutors
RPA Related Jobs
https://www.hopetutors.com/job/capgemini-hiring-rpa-devlopers-hope-tutors/
https://www.hopetutors.com/job/l-and-t-looking-for-rpa-automation-anywhere-professionals/