UiPath Training in Chennai
Hope Tutors is regarded as one of the best institutes to learn Robotics Process Automation. We offer advanced UiPath Course materials from industry experts at economical prices. We use state of the art facilities to provide you with the finest UiPath training. Keeping your interests in mind, we provide you with the opportunity of choosing between a classroom setup or online sessions to deliver our teachings.
UiPath Student Testimonial
Introduction to UiPath
UiPath is a well-known Enterprise Robotic Process Automation (RPA) Software. UiPath empowers and enables businesses and enterprises to automate high volume, repetitive, labor-intensive tasks that require more time to complete.
The three main products of the UiPath RPA platform are as follows:
UiPath Studio – We use UiPath Studio, a leading tool that provides users with the ability to design automation processes with the help of diagrams aided by visual representation.
UiPath Robot – Just like a human, an UiPath robot executes the processes built in UiPath Studio. Their robots can work unattended or as assistants. Unattended robots do not need human intervention in any environment whereas, assistants need a human to trigger the process.
UiPath Orchestrator – It is an example of a web application that provides users with the ability to deploy, schedule, supervise, and control Robots and processes. It also has the option of business exception handling through centralized work queues.
Basic Concepts
Workflow Types and Activities – The Studio has access to numerous types of workflows (flowcharts, sequences, and business processes). You can devise your automation workflow depending on your requirements.
In order to create these workflows, we require activities (different actions undertaken by a user to automate applications, such as typing and clicking). There are around 300 of these activities which empower you to interact with email accounts. They include Excel spreadsheets, terminals, databases, images, PDFs, desktop applications, web-browsers, and many others. You can also effectively and easily create SOAP (Simple Object Access Protocol) and HTTP (Hyper Text Transfer Protocol) requests.
Recorder Functionality – The simplest way to create workflows is to use the record feature. There are four types of recording: Basic, Desktop, Web, and Citrix. Basic and Desktop helps us to automate desktop applications. Meanwhile, Web and Citrix enable us to effectively manage and control virtual environments and web applications.
Variables and .NET Functions – A variable allows us to store a value of a specific nature. On top of variables, we can use .NET functions to further improve your automation.
Robots and Orchestrator – Robots are known as the UiPath executors. They can interact with massive amounts of applications at the same time.
We use Orchestrator to efficiently manage and supervise numerous deployed robots. Numerous robots are normally deployed in large organizations where it is necessary to automate multiple business processes together. The first thing that we need to do in this web application is to register your robot/robots, After that, we need to group them together in an environment. We have to link the workflows published on this platform to an environment. From this environment, we can start executing workflows depending on our requirements. We can run a process on one or multiple Robots, a certain quantity of them, or on all the robots grouped together in a single environment.
Assets and Queues – Assets are a special kind of variables introduced in Orchestrator, to allow robots to share information. Assets enable us to store information (credentials included) in the web application's database. This helps us to change a value, used in multiple processes easily. Numerous robots will also have access to this changed value.
UiPath uses work queues to divide the load of a transactional process among numerous robots. These bots can be programmed to begin before or after a specific date. They can also view the detailed information stored in each queue.
Logs, Audit, Alerts, and Others – We use the Logs tab to monitor the performance of robots. It can check whether the processes were completed or not. On top of this, every action performed by a user can be audited, and alerts are sent via email to all those with the required permissions. Other functions include importing users from an Active Directory Group, roles management, displaying information in neat charts, and splitting up automation processes among teams through tenants.
Types of UiPath Automation
Desktop Automation – UiPath is the pioneers of a visual and declarative method of outlining how to automate a process and users can utilize it just like a Visio diagram. You simply have to indicate on the screen what operation you need to perform while working with the presentation layer of other applications. UiPath can understand the UI at the logical control level and does not depend on the location of screen elements. Hence, automation becomes more self-reliant and self-sufficient and does not depend on the screen size or resolution.
Web Automation – UiPath Web Automation is equipped with a built-in recorder which is used to read and enact web-based actions. We use web automation to identify different elements of the web by their characteristics and correctly manipulate them, matching any number of website changes. It is applicable for any website, no matter how complicated it is, and we can deploy it remotely on multiple machines in the network. The graphical workflow editor is intuitive and requires no coding skills. You save money, time and all your requirements are accurately met.
GUI Automation – GUI Automation refers to the process of replicating keyboard and mouse actions on controls and windows. Because the majority of automation tools depend either on the coordinates of the controls or the text they contain, it is not always dependable. UiPath identifies and understands the internals of all the important GUI frameworks, from JAVA to HTML, Win 32 and WPF. It has the ability to observe and recognize graphical objects by their platform-specific-attributes. It then furnishes a consolidated GUI automation API that works unanimously everywhere. UiPath uses image and OCR text-based automation to recognize objects in unique scenarios where object recognition is not available (such as inside a Citrix Environment or remote desktop applications).
Screen Scraping – UiPath Studio provides us with a feature rich integrated development environment (IDE) that allows a user to visually design an automation workflow which has a drag-and-drop editor. There are hundreds of predetermined automation blocks in the Studio. The Recorder allows us to capture the different actions of any manual task. While the recorder is recording, your steps on the screen are looked into and translated into logical steps in a workflow. Meanwhile, the Web Scraping Wizard and the Screen Scraper Wizard provides us with the option of extracting data out of any application in a matter of minutes.
Citrix Automation – We use Citrix XenApp to publish numerous applications in today's world. Previously a Citrix server was only capable of sending screenshots of the live application, running on the Citrix server, back to the client. As a result, UiPath could not access the logical elements which made up the user interface. UiPath went through a lot to make sure that Citrix Automation would come to life one day. It features a dynamic image recognition engine capable of locating images on the screen in less than 100 milliseconds. Other than the image recognition, the text is dispatched back to the client via an on-screen OCR (Optical Character Recognition) or a shared clipboard. The integrated Recorder also boosts productivity. As a matter of fact, automating a regular desktop application takes the same amount of time as building an integration involving Citrix.
Mainframe Automation – UiPath Mainframe Automation helps to bridge your green screen through GUI automation. RPA will help you to unravel the power of your business' core functions. RPA's software bots play the role of translators between the old and new platforms and applications, without modifying the mainframe. It is easily possible over the cloud. You can modify and advance the existing applications and mainframe to swiftly integrate with cloud-based services and new systems, all from a single interface. Processes and apps are quickly deployed, while bots manage and control the workflow with improved results. Bots can analyze, monitor, correlate, and respond to real-time events in turn leading to improved customer satisfaction. You have options like choosing the pace of integration, scaling up and down, and extending based on your requirements. RPA looks after data safety, which is of paramount importance. Mainframe automation is the most cost-effective solution to integration.
SAP Automation – Integrating SAP with existing platforms will help streamline data entry. Entering data is a tricky task to automate. Take the example of an employee scanning a form to categorize it. This job is actually very complicated for a software to replicate. On the plus side, software packages never make errors, unlike our human counterparts. UiPath has managed to combine human intuition with software accuracy to deliver a product that can be trained to effectively and intelligently perform human actions. For example, this product can intelligently scan forms, copy data and replicate key presses without making errors and getting tired. UiPath has optimized SAP integration to ignore unimportant information on a website or SAP software, and only pays attention to the important items, hence, it doesn't matter how complicated your SAP software is. UiPath is capable of recognizing only the important aspects like what buttons to press or which fields to fill out.
We use UiPath for:
SAP Screen Scraping
Legacy Application Integration
Content Migration
SAP Automated Data Entry
Excel Automation – Excel Automation is a feature-rich automation software tool. You can use UiPath Excel Automation to manipulate Excel data easily and effectively without any errors. This results in a lot of time saved and mitigate your employees from having to learn extensive coding and doing repetitive jobs. Hence, Integration is safe and smooth with other applications. We have loaded UiPath Excel Automation with endless automation scenarios and can handle anything regardless of the size of the tasks being done. Common Excel Automation scenarios include:
Integrating with other applications and databases.
Comparing columns.
Reading and writing data.
Data extraction and migration.
Storing data and deleting duplicate rows.
Retrieving and creating workbooks.
Running analysis reports.
Filling in forms with data from Excel spreadsheets.
Macro Recorder – UiPath's Macro Recording Innovation can visualize and see the user interface like a human. It is one of the most progressive recording tools available for free and easy use. It has all the features of an expert automation software hence, satiating even the most experienced users. Meanwhile, it is coding free and boasts of a visual interface design which makes it highly intuitive and easy for novice users. Multiple types of recording are available which include, Basic and Desktop, Web, and Citrix. Examples of common automation practices include:
Data mining.
Content Migration.
Keying or screen scraping data on screen.
Repurposing content
Starting or closing a case
Comparing data fields on screen.
Updating status field in a system.
Making a decision based on a business rule.
Identifying an exception to a process and flagging it for review
UiPath Success Stories
RPA and Natural Language Processing (NLP) synchronized in global finance audit delivery systems in leading consultancies.
Problem – One of the main roles of a global audit, tax, and advisory consultancy firm's delivery center is to perform the quarterly and annual audits for their final customers. The process always turned out to be a complex one spanning numerous subprocesses including checking internal consistency, running footing and cross-footing, recalculating balance sheets, and estimating previous year closeouts. The work was labor-intensive and time-consuming. In addition to that, the processing logic was entirely judgment oriented with predetermined rules set a long time ago and the element of human error. There was a need to automate this process.
Solution – UiPath's Enterprise RPA Platform is now responsible for automating many of the activities required for audit delivery including footing and cross-footing, checking internal consistency, recalculating the balance sheet, and estimating previous year tie-outs. The platform uses Stanford's NLP capacity to automate numerous processes. UiPath's robots add a lot to automating financial reports by optimizing the business process logic and categorizing data in tables and in the narrative without any human intervention. In addition, the bots can also process textual contents, extract tables using a PDF extraction engine and perform validation of the original balance sheet and other financial data.
Result – There is an 85% improvement in accuracy. UiPath has saved 54000 work hours. UiPath has automated 45% of all the audit delivery processes.
Complicated Insurance activities Automated
Problem – An Enterprise named Hollard is South Africa's largest privately owned insurance group. Every year this company received a staggering 1.5 million claim emails from its brokers. In order to handle each claim, the employees had to interpret, classify, and process these emails and their attachments. Problems ranged from a growing backlog of unprocessed claims to maintaining compliance with Service Level Agreements (SLAs) and specific regulatory and statutory provisions. There was a need to automate this process.
Solution – UiPath came to the rescue of Hollard to automate several processes. The implemented solution involved machine learning (ML), natural language processing, intelligent optical character recognition and analytics from Microsoft, IBM Watson, and ABBYY, all unified into UiPath's Enterprise RPA Platform. Now UiPath's bots access and interpret the incoming email's content contextually, categorize them, sort the required documents and enter the relevant data into necessary databases without any human intervention. The robots are also capable of interacting with human employees to deliver completion confirmation and execute specific instructions.
Result – New claims are being processed in real-time. All backlogs of claims resolved. UiPath has reduced transaction costs by 91%. UiPath robots can deal with 98% of the cases autonomously. An UiPath robot can process up to 600% faster than a normal human being.
The technological landscape has shifted to Robotic Process Automation (RPA). The whole world knows that UiPath is one of the best tools to learn RPA. The scope of RPA is vast and endless and has grown exponentially in the past 3 years. UiPath is necessary to propel you to great heights in your career.
UiPath Course Brief
Our UiPath course in Chennai will empower you to expand your knowledge-base in Robotic Process Automation (R.P.A), using the leading R.P.A tool titled, "UiPath".
What will you learn in our UiPath training course in Chennai?
Introduction to UiPath course basics
The benefits of Automation
Architecture
UiPath Studio
Workflow Configuration
UiPath RPA Release Management
UiPath Orchestrator
Remote Control
The Workload of bots and queues
Scheduling
Custom Roles Authorization
Asset Management
Automation of Industry level processes (Customer feedback analysis, Invoice Processing, Accounts Payable/Purchase Orders Processing, etc.)
You can rest assured that we will provide solutions to inspire and motivate each individual. This will enable them to achieve their goals and aspirations.
UiPath Course Certification
The UIPath Certification Program enables and entitles you to develop and grow as an industry professional and scale new peaks in today's digital age.
UiPath RPA Developer Advanced Certification – This UiPath Course Certification authenticates that our candidate has gained in-depth knowledge regarding the UiPath features and components. It will also provide a candidate with the ability to successfully automate a real-life project dependant on the best UiPath processes and automation ethics. This candidate will be fully qualified to perform any role in any RPA Center of Excellence.
The Uipath Course Certification will help you to branch your career into different roles based on what you want. You can become an RPA Developer, an RPA Service Support Technician, and an RPA Solution Architect in any RPA Center of Excellence.
Certification Exam Structure – The UiPath RPA Developer Advanced Certification Exam is categorized into two sections. The first section consists of an online quiz which requires a minimum passing grade of 70%. The second section consists of a practical webinar supervised and handled by one of our RPA pioneers. The second section also demands a passing score of 70%. Candidates are eligible for the practical examination (2nd Section) if and only if they have passed the online quiz (1st Section).
Duration – The practical session is normally scheduled at least 3 days after the completion of the online test. The practical examination is in the nature of a webinar. We allow a maximum of 5 other participants and the test spans for a period of 3 hours.
Cost – The UiPath RPA Developer Advanced Certification is being provided complimentary, until December 31st, 2018, for promotional purposes.
What are the benefits?
You automatically become a member of the world's leading RPA Community. You get the opportunity to connect with the biggest RPA Forum for development and assistance. It will help you to grow your career and collaborate with others.
This Certification guarantees you an edge. With your UiPath RPA Certification, you immediately stand out in this emerging industry of automation. It is necessary to propel you in the right direction in your career in automation be it an RPA Developer or an RPA Service Support Technician or an RPA Solution Architect.
You'll synchronize with the most up-to-date and latest technologies in the field of RPA. You will know first hand about any changing trends leading to a wider knowledge base and increased instances of real-time project exposure.
UiPath Training In Chennai with Placement
The vision of Hope Tutors is to see each and every individual get a job in a reputable organization. We want our candidates to reach new heights in their career. Placement is an integral part of our UiPath Training Institute in Chennai. We make sure that we provide assistance in whatever way we can. You just have to complete your UiPath course with us. Please take a look at the services we provide in relation to placement:
Mock Interviews
Placement oriented method of teaching
Syllabus inclined UiPath Interview Questions
Placement Assistance with Premier MNC's
Resume preparation
UiPath Salary Trends
UiPath, a tool of RPA has taken the world by storm. Automation Industry is booming at an unprecedented rate with more and more companies opting for automation over manual, labor-intensive tasks.
According to Glassdoor: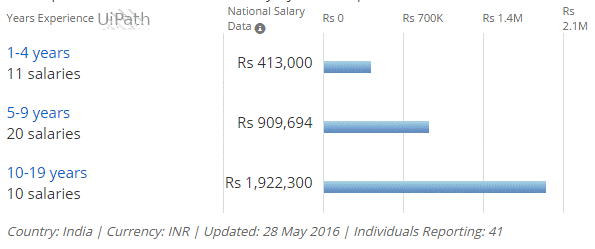 An UiPath RPA Developer with an experience of 4 years may earn anywhere within 4.5 Lakhs per annum in India.
An UiPath RPA Developer between 5 and 9 years of experience may earn anywhere within 9.5 Lakhs per annum in India.
An UiPath RPA Developer between 10 and 19 years of experience may earn within 20 Lakhs per annum in India.
Please bear in mind that your salary depends on your knowledge, skill-set, and experience. The more the experience, the more the salary depending upon the value you add to the organization.
Why should you enroll with Hope Tutors over other UiPath Training Institutes in Chennai?
We want you to take an informed decision before joining any institute. The points mentioned below will help you to differentiate Hope Tutors from Other UIPath Training Institutes in Chennai.
100% real-time project training
Revised and up-to-date UiPath training methodology
Experienced UiPath trainers
Focus on Individual Attention
Optimized UiPath Course fee-structure
100% Placement Guarantee
Free Demo Sessions
Compact Batch Size
One to One Training
Alumni Enquiry
Flexible Timings and schedules
So, what are you waiting for? Enroll with us, complete your UiPath Classes and get certified immediately.
Why Corporate Training Is Need For Software Professionals
      Corporate training is essential for software professionals due to several reasons. Firstly, the technology landscape is constantly evolving, and new tools and frameworks emerge regularly. Corporate training equips software professionals with the latest skills and knowledge required to excel in their roles. Secondly, software professionals often work in teams, and effective collaboration and communication are crucial for success. Corporate training fosters teamwork and interpersonal skills, enabling professionals to work seamlessly together. Additionally, Corporate Training enhances productivity and efficiency by providing software professionals with specialized training tailored to their job requirements. This training helps them stay updated with industry best practices, optimize workflows, and improve problem-solving abilities. Moreover, software professionals need to keep up with evolving security threats and data privacy regulations. Corporate training ensures they are well-versed in cybersecurity measures and compliance standards, reducing the risk of data breaches. In summary, corporate training is essential for software professionals as it keeps them up-to-date with the latest technologies, improves collaboration and communication skills, boosts productivity, and enhances security awareness.
RPA Interview Questions
[/accordion] [/agroup]
Course Curriculum
RPA Introduction
What is Robotic Process Automation?

00:00:00

How RPA Works?

00:00:00

Processes Suitable for RPA

00:00:00

RPA Market Size and Growth

00:00:00

RPA Development Skills

00:00:00

RPA Benefits and Use Cases
ROI

00:00:00

Benefits of RPA

00:00:00

Use cases

00:00:00

RPA Products
RPA Products

00:00:00

Leadership Positions

00:00:00

Product Selection Criteria

00:00:00

RPA and Artificial Intelligence
AI Technologies and RPA

00:00:00

Digital Workforce

00:00:00

UiPath Introduction
UiPath Software

00:00:00

Studio.Robot.Orchestrato.UiExplorer

00:00:00

UiPath UI and Keyboard Shortcuts

00:00:00

Updating UiPath Studio

00:00:00

WorkFlows
Chrome & Firefox Extensions

00:00:00

Logging

00:00:00

Sequences

00:00:00

Flowcharts

00:00:00

State Machines

00:00:00

Activities and Packages
Managing Packages
UI Automation
UI Elements
Ui Activities Properties

00:00:00

Input and Output Methods

00:00:00

Relative Scraping

00:00:00

Selectors
Selectors with Wildcards

00:00:00

Full Versus Partial Selectors

00:00:00

UiPath Explorer

00:00:00

Recording
Recording Types – Basic | Desktop | Web | Citrix |

00:00:00

Automatic Recording

00:00:00

Manual Recording

00:00:00

UI Automation
Mouse, Keyboard, Find, Control

00:00:00

User Events
Elements, Image, System, Triggers

00:00:00

Screen & Data Scraping
Full Text, Visible Text, OCR

00:00:00

Semi Structured/Patterned Data

00:00:00

Structured Data / Tabular Data

00:00:00

Programming and Data Manipuation
Data Types
Arrays and collections, user Defined

00:00:00

Libraries

00:00:00

Variables
Managing Variables, the Variables Panel

00:00:00

Naming Best Practices, etc.

00:00:00

Arguments
Managing Arguments

00:00:00

The Arguments Panel

00:00:00

NameSpaces – Importing Namespaces

00:00:00

Control Flows
If| While | Do While | For-Each| Break | Continue |Switch Assign | Delay

00:00:00

Advanced Activities
Parallel, Pick – Pick Branch

00:00:00

SOAP and Rest Services, Integration with Python, Java, VB.Net, JScript

00:00:00

Data Manipulation – Run Time Data Manipulation

00:00:00

Error Handling – Try Catch

00:00:00

Debugging Workflows and Best Practices

00:00:00

Image and Text Automation
Studio.Robot.Orchestrato.UiExplorer

00:00:00

UiPath UI and Keyboard Shortcuts

00:00:00

Updating UiPath Studio

00:00:00

Chrome & Firefox Extensions

00:00:00

Logging

00:00:00

WorkFlows
Sequences

00:00:00

Flowcharts

00:00:00

State Machines

00:00:00

Activities and Packages
Managing Packages
Excel, PDF, Email Automation
Ui Activities Properties

00:00:00

Input & Output Methods

00:00:00

Relative Scraping

00:00:00

Selectors
Selectors with Wildcards

00:00:00

Full Versus Partial Selectors

00:00:00

UiPath Explorer

00:00:00

Recording
Recording Types – Basic | Desktop | Web | Citrix |

00:00:00

Automatic Recording

00:00:00

Manual Recording

00:00:00

UI Automation
Mouse. Keyboard. Find. Control

00:00:00

User Events
Element, Image, System Triggers

00:00:00

Screen & Data Scraping
Full Text, Visible Text, OCR

00:00:00

Semi-Structured / Patterned Data

00:00:00

Structured Data / Tabular Data

00:00:00

Orchestrator
Control Center

00:00:00

Dashboard

00:00:00

Provisioning and Deployment

00:00:00

Robots and Environments

00:00:00

Processes and Packages

00:00:00

Jobs and Schedules

00:00:00

Queues and Transactions

00:00:00

Assets, Alerts, Audit, Logs

00:00:00

Users and Roles

00:00:00

SAP and Terminal Automation
How to Automate SAP Applications (using screen snapshots)

00:00:00

Mainframe and Terminals Automation

00:00:00

How to Automate Mainframe Terminals (using screen snapshots)

00:00:00

Advanced Topics
SAP Automation
Introduction to RE Framework

00:00:00

Introduction to Cognitive Activities

00:00:00

Introduction to Process Mining

00:00:00

Introduction to RPA as a Service

00:00:00
Recorded Sessions
We provide the video recordings of our classroom sessions and you can rewind and go back for your immediate and future references.



Flexible Timings



The training sessions are customized to the preferences of the students and the session timing is designed to be flexible.
Practical Case Studies
We provide real-life ReactJS case studies. The materials are purposefully hand-picked to serve the needs of the students.



Communal Forum



We have created a WhatsApp community forum, where you can converse and develop your skills in React.js



Lifetime Access



You will have lifetime and unending access to wealth of ReactJS resources.
Placement Support
We offer you job placement guidance by providing rich interview questions materials and job recruitment
Course Reviews
5 stars

11

4 stars

0

3 stars

0

2 stars

0

1 stars

0