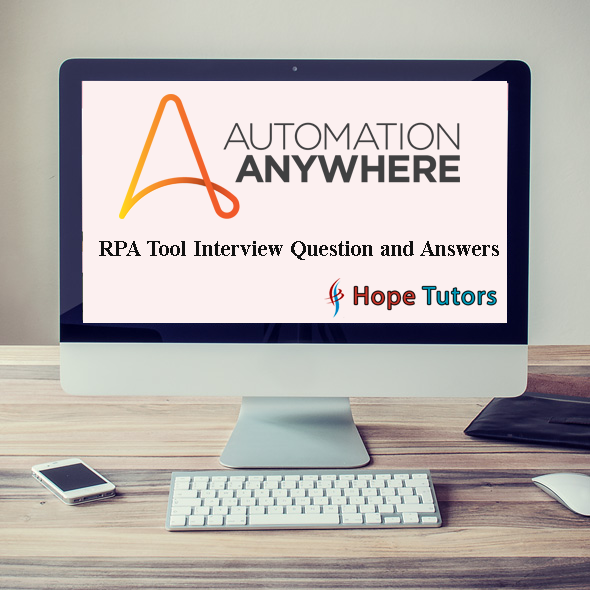 Automation Anywhere Tool Interview Questions and Answers
Question 1
Define Attended Automation.
Answer
In automation anywhere process automation, a bot execution is done in multiple domains. But an attended automation bot runs and executes its automation on the immediate and locally available workplace of the automation users.
Attended bots can be cited in at least three instances.
RPA products client toolkits
Embedded screen button
Existing screen user interface element
Answer : Software Development Life Cycle, also known as SDLC, is a process used to design, develop and test best software systems in terms of quality, training, and purpose.
Question 3
What is task bot and how does it work?
Answer
:
Task bots are mainly responsible for the running and execution of workforces and the base for all Automation Anywhere.
Task bots are known for its ceaseless workings and it executes continuously.
Task bots usually consist of tasks that are based on rules, which responded to the structured data model.
Question 4
What are the purposes of Web recorder?
Answer
: Web recorder is principally used for the operations of web data extractions.
it's chief functions are:
Extracting data: web recorder extracts data from any given website
Regular data: usual data like paragraphs and binary numbers
Pattern-based solutions: web recorder searches through some specific pattern modulations like yellow pages searched varieties.
Extract table: the most important functions of extracting the data from the table.
Question 5
When a particular environment changes and the automated task is inactive what should we do?
Answer :The change of things is the notable issues in automation anywhere, and the problems also extend to how systems that are brought in can tackle and go on with it. When we try to work with back-end systems alterations, automation software is prepared to reply in multiple ways.
In the beginning, robust automation software has some advanced mechanisms to handle the errors in the built-in systems, to capture these issues when they come up. It is a very easy way to build logic into the system for possible outcomes when we want the system to respond in a particular way. When systems and environments alter, automation software also makes it easier to edit scripts easily without any need to re-write them or re-record automated works…
Question 6
Does automation anywhere identify the processes to be automated?
Answer
:
In fact, we have the best tools on the business and what we do on a usual daily basis, and are in turn able to decide upon what procedure would be supportive to automate. But how do we decide what to automate first? Our automation software must have a return on investment calculator to decide which of the processes would be most good to automate first, making it easy to put on top.
In addition to return on investment calculators, the best way to decide the best automation professionals is to crowd the organization for the information-oriented methods. We also can use idea generator tools that already is in there, or use a tool like Cumulus which supports anyone in the organization to prompt tasks to automate, allows others to vote on works, shows time saved by automating that task, and allows us to go directly into automating the tasks with the most return on investment projects.
Question 7
How many can various systems the automation anywhere work with?
Answer : Automation process software systems that use front-end automation procedure permits the user to interact with almost any kind of system since no back-end coding is needed at all. And also yes, that comprises of the legacy and the system management tools also.
Question 8
How accurately does automation anywhere work?
Answer :Accuracy and authenticity will certainly come up in our work operations about process automation software. Automation software, at its center, answers this question. The reason is its major purpose is to conserve time, minimize costs, and eliminate human error.
Many works and processes can run incessantly without fail. Should errors come up, the system triggers off the alarm bells and lets us know immediately, hindering us from wasting time or money on an error might have sneaked through the way and negatively affected us in the process.
Question 9
How do we take control of new task generation?
Answer
:There are many ways to keep automation from going out of control. Among the many options are we have,
Choosing a select group of internal success operatives who develop automated works and processes, and leaving task generation in their control…
Distributing executable run-time licenses to other people in the organization who should surely be using automation, but not, in fact, creating the tasks themselves.
Using a company's personal or online training resources to assure that people who will be generating tasks have a good understanding of how to do that.
Question 10
What are the features we have to look while choosing a tool for automation anywhere?
Answer : The tools needs are very simple to use and have test environment facility available easily. It should have incorporated debugging capability for the good operations. It is really true that testing image and objects are the crucial aspects of the Automation Anywhere. Hence, it must have a better image and object testing facility. Also, it must be equipped to test the database. Object identification, as well as several framework assistance, are the other features that need to be there in a tool for Automation Anywhere.
Question 11
What kinds of a framework used in Automation Anywhere software?
Answer
: In general, there are four essential frameworks that are usually used. First is automation work framework that is keyword driven in its workflow.
Next is Data-driven automation framework, where the sole availability of data determines the automation process.
The third is Hybrid Automation Framework where a various mixture of process automation frameworks works together and at last, there is a most important framework system called Modular automation framework.
Question 12
What is the major purpose of Automation Anywhere and what are the difficulties one may face with it?
Answer : Automation Anywhere is a very good practice that seeks to preserve time and cut down the human-prone errors. It is fundamentally a form of artificial intelligence that is supportive in making the workforces and processes more advanced in every category. The biggest problems relevant to the current events are skills shortage and excessive cost. However, a lot of works can be made run without a break without having to fret about the potential failure.
Question 13
What are the common steps involved in Automation anywhere process?
Answer : The very first thing is to choose the test tool that comes packed with the automation software. After that, the next step would be to describe the ambition of automation anywhere followed by the options of planning, development, and designing.
The next step is testing execution .that is we would test the entire framework before start running it. And the ultimate step is management and maintenance. It is crucial to go through the steps in the estimated sequential order to eliminate challenging confusion
Question 14
What is Image Recognition in Automation Anywhere?
Answer : Image Recognition is an important advance feature included in automation anywhere. This feature of the visualizing technology available in Automation Anywhere is accessible and helpful in recognizing images and the hidden aspects that come with it. With the support of this Visualize Technology, Image Recognition permits the recognition and comparison of images from various files, folders, or windows.
Related Interview Questions with Answers