Tableau Training
Hope Tutors provides the best Tableau Training in Chennai at affordable fees. We designed the tableau course module as that you can learn & master the concepts of Tableau.
  Why Tableau Training in Chennai from us ?
Job Opportunities – Right after the completion of your course, we would help in fulfilling the purpose of tableau training with us, Mock Interviews with HR, Tableau Interview Questions that aligns with the latest syllabus and finally the Visualised Resume.
Anytime Access – You can access your Course Videos and Materials anytime with us.
Customer support – There will be lifetime support from us, we always listen to your queries even you left us, we always keep the door open for the Alumni.
5-10+ Experienced Trainers – The trainers from whom you are gonna learn are industry experts with 10+ years experience. Trainers are Friendly and also provides Real time Projects to expose yourself to the Domain.
What is Tableau ? 
Tableau is an interactive data visualization tool that can be used to create customized dashboards and generate compelling business insights. There is no need of coding, anyone can get valuable insights of their business, this has pushed the tableau top on the all latest Business Intelligence tools like QlikView & Qliksense.
What are the Features of Tableau
Revision History
Cross-database join
Device designer
REST API improvements
What are the Benefits of Tableau
Build Interactive Dashboards
Portability
Easily Connect to R
Supports Mobile Devices
Large Integration
What are the Tableau Course Objectives?
Understanding the main Tableau interface with real-time working projects
Build visualizations with the data.
Build Interactive Dashboards.
Data Reshaping and Formatting.
Show trends or change over time.
Usage of Maps and Spatial Analysis
Creation of Waterfall Chart in Tableau and Donut Charts.
Best Practices and analytical techniques using Tableau.
Who should take Tableau Training in Chennai
Data Scientist who are keen on presenting their data in a rich manner
Marketing Professionals who are keen on Delivering their sales achievement and valuable insights to their boss
Developers who are changing their den to Big Data.
People who are working on heavy loads of data every day and depending on excel to get the insights
Pre-requisites for taking Tableau Training in Chennai
Technically speaking Tableau works mostly on the data processing, So it is always good to have some additional tools/technology related to the Data Processing
Knowledge in SQL, R and Python is Commendable for Tableau Training.
Tableau Course Salary Trends
Data is going on the rate of knots, as the hunt for people who works on the data processing too. Big Giants always needs the people who can consistently give insights on improving and scaling the business, so there is no Shortage of Jobs in Tableau, skyrocket your career by our Updated Tableau training in Chennai.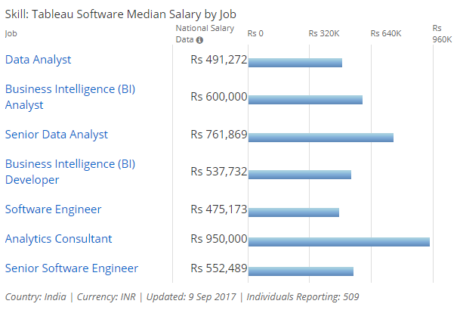 Tableau Course Certification
Tableau Course Certification Can be done on the two streams.
Tableau Desktop
Tableau Server
Tableau Desktop Certification would be apt for analysts and data visualization professionals who mostly design and create interactive Tableau dashboards.
Tableau Server Certification is a good choice for the database administrators, The professionals who involve in the data layer administration of existing and ongoing Tableau reports can also take the Certification.
Each certification stream consists of
Qualified Associate
Certified
Professional
Delta Exam.
Qualified Tableau Associate is a prerequisite exam for your professional tableau certification. We always recommend the people to have Tableau experience for at least 5+ months prior to attempting the exam.
Qualified Professional would give you the designation of Tableau Certified Professional. According to Tableau guidelines, you need to have at least 11 months of Tableau experience prior to attempting the exam.
Delta examination needs to take for renewing your certification once a new version of Tableau comes out.
Tableau pushes you to complete the Tableau Fundamentals and Advanced courses since it makes you a Complete Tableau Certified Professional.
Reach us today through call/ email/chat to know more about the other Data Visualisation /Analytics Training Courses Hope Tutors wishes you good luck in your career growth.
Frequently asked Questions
Would you provide Admin level or Developer level training ?
Answer
We Provide the both admin and developer level training.
Would You Provide Tableau Software ?
Answer :Yes, We provide Software with Maximum Validity License.
What about the Job Opportunities after course ?
Answer : We Provide 100% Placement assistance, Resume Building tips and Mock interviews as that you can crack the job.
Who should attend Tableau ?
Answer : The Software Professionals who are currently working on BI,SQL Database Developement and Data Warehousing can pursue tableau.
Would you Provide a Free Demo Session ?
Answer : Yes, We Provide a Free Demo Session so that you can get the better idea on our teaching methodology.
What is the Tableau Trainer Experience ?
Answer :
The Experience Would be around 5-10 Years, We handpicked the trainers from extensive screening of the profiles with Quality Check.
Is the Trainer Experience hands on ?
Answer : We Choose the trainers who works on the Projects that includes the Tableau Software.
Is the Tableau training Advanced level ?
Answer :
Yes, Our Course Module Covers all the Advanced Concepts, so that you never stuck in the Outdated Concepts.
Would you provide tableau certification ?
Answer :
Yes, We provide Tableau Certification.
Discover the Other Courses 
Course Curriculum
Introduction and Overview
Why Tableau? Why Visualization?

00:00:00

Level Setting – Terminology

00:00:00

Getting Started – creating some powerful visualizations quickly

00:00:00

Product Line of Tableau

00:00:00

Things you should know about Tableau

00:00:00

Concepts and Options when Connecting to Data
Overview of other connection options

00:00:00

Joining multiple tables

00:00:00

Data Blending

00:00:00

Copy and Paste

00:00:00

Data Extracts

00:00:00

Custom SQL

00:00:00

Publishing and Re-using Data Connections

00:00:00

Understand how to deal with data changes in your data source such as field addition, deletion or name change

00:00:00

Re-using and sharing data connections – the concept of meta data

00:00:00

Working with multiple connections in the same workbook

00:00:00

Getting Started
Connecting to Data and introduction to data source concepts

00:00:00

Working with data files versus database servers

00:00:00

Understanding the Tableau workspace

00:00:00

Dimensions and Measures

00:00:00

Using Show Me!

00:00:00

Tour of Shelves (How shelves and marks work)

00:00:00

Building Basic Views

00:00:00

Help Menu and Samples

00:00:00

Saving and Sharing your work

00:00:00

Saving and Sharing your work

00:00:00

Analysis
Creating Views

00:00:00

Marks

00:00:00

Size and Transparency

00:00:00

Highlighting

00:00:00

Working with Dates

00:00:00

Date aggregations and date parts

00:00:00

Discrete versus Continuous 3

00:00:00

Dual Axis / Multiple Measures

00:00:00

Combo Charts with different mark types

00:00:00

Geographic Map

00:00:00

Page Trails

00:00:00

Heat Map

00:00:00

Density Chart

00:00:00

Scatter Plots

00:00:00

Pie Charts and Bar Charts

00:00:00

Small Multiples

00:00:00

Working with aggregate versus disaggregate data

00:00:00

Analyzing

00:00:00

Sorting & Grouping

00:00:00

Aliases

00:00:00

Filtering and Quick Filters

00:00:00

Cross-Tabs (Pivot Tables)

00:00:00

Totals and Subtotals

00:00:00

Drilling and Drill Through

00:00:00

Aggregation and Disaggregation

00:00:00

Percent of Total

00:00:00

Working with Statistics and Trend lines

00:00:00

Getting Started with Calculated Fields
Working with String Functions

00:00:00

Basic Arithmetic Calculations

00:00:00

Date Math

00:00:00

Working with Totals

00:00:00

About Custom Aggregations and Logic Statements

00:00:00

Logic Statements

00:00:00

Formatting
Options in Formatting your Visualization

00:00:00

Working with Labels and Annotations

00:00:00

Effective Use of Titles and Captions

00:00:00

Introduction to Visual Best Practices

00:00:00

Building Interactive Dashboards
Combining multiple visualizations into a dashboard

00:00:00

Making your worksheet interactive by using actions and filters

00:00:00

An Introduction to Best Practices in Visualization

00:00:00

Filtering, Sorting & Grouping
Advanced options for filtering and hiding

00:00:00

Understanding your many options for ordering and grouping your data: Sort, Groups, Bins, Sets

00:00:00

Understanding how all of these options inter-relate

00:00:00

Working with Data
Data Types and Roles

00:00:00

Dimension versus Measures

00:00:00

Data Types

00:00:00

Discrete versus Continuous

00:00:00

The meaning of pill colors

00:00:00

Database Joins

00:00:00

Data Blending

00:00:00

Working with the Data Engine / Extracts and scheduling extract updates

00:00:00

Working with Custom SQL

00:00:00

Adding to Context

00:00:00

Switching to Direct Connection

00:00:00

Building meta data via shared Data Source connections

00:00:00

Performance considering and working with big data

00:00:00

Working with Calculated Data and Statistics
A Quick Review of Basic Calculations

00:00:00

Arithmetic Calculations

00:00:00

String Manipulation

00:00:00

Date Calculations

00:00:00

Quick Table Calculations

00:00:00

Custom Aggregations

00:00:00

Custom Calculated Fields

00:00:00

Logic and Conditional Calculations

00:00:00

Conditional Filters

00:00:00

Advanced Table Calculations

00:00:00

Understanding Scope and Direction

00:00:00

Calculate on Results of Table Calculations

00:00:00

Complex Calculations

00:00:00

Difference From Average

00:00:00

Discrete Aggregations

00:00:00

Index to Ratios

00:00:00

Reference / Trend Lines

00:00:00

Understanding where Calculations Occur Statistics

00:00:00

Statistical Calculations

00:00:00

Summary Stats

00:00:00

Cohort Analysis

00:00:00

Working with Dates and Times

00:00:00

Continuous versus Discrete Dates

00:00:00

Dates and Times

00:00:00

Reference Dates

00:00:00

Advanced Mapping
Fundamentals Review: Building basic maps

00:00:00

Fixing geographies

00:00:00

Geographic Fields

00:00:00

Map Options

00:00:00

Built-in Demographics / Layering

00:00:00

WMS – working with a Web Map Service

00:00:00

Importing Custom Geographies

00:00:00

Assigning Geographies to Non-Geographic fields

00:00:00

Distance Calculations

00:00:00

Spatially Visualizing non-Geographic Data using background images and geo-coding

00:00:00

Working with Parameters
Parameter Basics

00:00:00

Data types of parameters

00:00:00

Using parameters in calculated fields

00:00:00

Inputting parameter values and parameter control options

00:00:00

Advanced Usage of Parameters

00:00:00

Using parameters for titles, field selections, logic statements, Top X

00:00:00

Building Advanced Chart Types and Visualizations / Tips & Tricks
Bar in Bar

00:00:00

Box Plot

00:00:00

Bullet Chart

00:00:00

Custom Shapes

00:00:00

Gantt Chart

00:00:00

Heat Map

00:00:00

Pareto Chart

00:00:00

Spark Line

00:00:00

KPI Chart

00:00:00

Building Better Dashboards
Interactive Dashboards

00:00:00

Quick Filters

00:00:00

Dashboard Objects

00:00:00

Filter Actions

00:00:00

Highlighting and Actions

00:00:00

Performance

00:00:00

Publish to Web

00:00:00

Zones

00:00:00

Guided Analytics

00:00:00

Cascading Filters

00:00:00

Highlighting

00:00:00

Quick filter Options

00:00:00

Select then See Visual Self-Populating Dashboards

00:00:00

Shortcuts

00:00:00

URL Actions

00:00:00

Overview – Working with Tableau Server
Publishing to Tableau Server – Overview of publishing, scheduling & security options

00:00:00

Tableau Server Usage – Interacting with Published Visualizations

00:00:00
Course Reviews
5 stars

4

4 stars

1

3 stars

0

2 stars

0

1 stars

0