Micro-strategy Training
Hope Tutors offers the best Micro-strategy Course in Chennai. We provide this course with the advanced course module. We design this course in such a way which fit the people who are willing to learn. Even they don't have any prerequisite knowledge on the Micro-strategy.
We design this course for your successful carrier. We will teach you the fundamental skills of Micro-strategy Course. We will train you in new trends, Practices as well as in all aspects. Also, we will concentrate in training you with industrial expectation. The course covers all topics in exam point of view.
Hope Tutors provides the best Micro-strategy Training in Chennai at affordable fees. We designed the course module as that you can learn. We will make you master in the concepts of Micro-strategy.
A Brief Introduction to Micro-strategy
Micro-strategy is business intelligence application software. This is mainly for enterprise. It allows us to search through the data & perform analytic on big data. This is possible from sources varying from Excel to Hadoop delivery. Micro-strategy supports the following.
Highly formatted reports.

Interactive dashboards.

Automated report distribution.

Ad hoc query.
It has Web as well as desktop interface & Microsoft Office integration. Relational OLAP architecture in Micro-strategy is useful. It allows us to drill any place in the relational database. It will run down till the transaction details. It has many advantages over other BI tools. They are as follows.
Automated report distribution.

Performs analytics on various sources.

Gives well formatted reports.
This is reason behind why most companies use Micro-strategy as BI tool.
Micro-Strategy mobile apps are the latest version. They are mainly for the following mobile OS. They are,
It will deliver BI data without reformat them for different platforms.
Micro-Strategy also provides the following features. They are,
Build.

Schedule.

Deliver analytic reports to users.
There are lots of scope available for Micro-Strategy experts. Many companies are using the Micro-Strategy BI tool. Companies use Micro-Strategy for analysis purpose.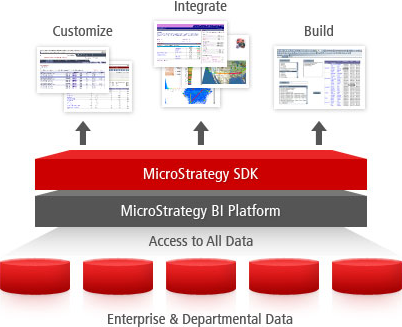 What is mean by Business Intelligence?
BI plays a major role in the field of engineering. BI will involve in arranging the information and data control. It will also involve in innovation segments.  These segments are utilized to construct business insight frameworks. This is used to report & information control with micro-strategy forum.
BI deals with the light of the fact. It influences improvement as well as execution choices. Micro-Strategy is a main supplier of big business programming stage. It has versatile knowledge as well as social knowledge applications.
Why you should take Micro-strategy course?

Micro-Strategy analytics solutions has a great career opening. There are lots of job opening for entry level. Micro-strategy tool can deploy on premises or as a turnkey. It has subscription-based cloud service. It has many jobs opening in various IT companies.
A global suite of this tool will reduce the total cost of ownership. It is very simple to manage any project. It has complexity to become a micro-strategy developer. Micro-Strategy Cloud offering includes full BI platform capacity. It will offer the data integration as well as database services.
Why the Micro-Strategy market trendy?
Nowadays big data plays a major role in the field of IT. To deal with this big data we require some special tools. Micro-strategy is one of the best tools to deal with big data. This will make it as very trendy.
Many companies deploying this tool for extracting valuable insights. Due to this, there is a big need for qualified Micro-Strategy experts. These experts will take a challenging role in technology & non-technology. We will give best training in Micro-Strategy. This will help you to get the best jobs in this domain.
What is the skill you should have to take Micro-Strategy?
The below are the skill required to take this Micro-strategy course. They are,
Experience in SQL Server Management Studio.

Experience in Microsoft Access.

Experience in navigating the Microsoft Windows Environment.
Skill you will learn in this Micro-Strategy course
Following are the skills you will learn from this course. They are,
Micro-Strategy installation as well as configuration.

Architecture of Micro-Strategy.

Deploying analytics with Micro-Strategy.

Concept of hierarchies as well as grouping.

Micro-Strategy data wrangling as well as analytics.

Security filter as well as performance tuning.
Who should take this course?
This course is especially design by industry experts. This will make you as experts. This training is must for IT experts. They are as follows.
Data Analysts.

Developers.

Enterprise Admin.

Software Architects.

Data Specialists.
This course will suit for the beginners who have more interest of their own. We provide the complete course material. We will also provide the Classroom recorded videos for this course. It will coordinate all topics so you can easily understand the concepts.  You can also refer the videos as well as material. We provide both offline and Online Classes. You can choose as per convenient of your own.
Field uses Micro-strategy
Following are the field that use Micro-Strategy. They are,
Computer Software.

Information Technology and Services.

Staffing and Recruiting.

Retail.

Hospital & Health Care.

Management Consulting.

Financial Services.

Insurance.

Tele-communications.

Human Resources.
Companies which use Micro-strategy
Following are some of the top companies which uses micro-strategy. They are,
Adidas.

Adobe

Acturis.

Ahold.

ATLL.

Allstate.

Amazon.

Avon.

Boston Children's hospital.

Capgemini.

Catalina.

Children international.

Dean Foods.

Domino's Pizza.

ebay.

Facebook.

Groupon.

Johnson & Johnson.

Linked in.

Metlife.

Netflix.

Panda.

Pfizer.

Saeco.

Swift.
Salary Trends
Following is the salary trends in this field.
| | | | |
| --- | --- | --- | --- |
| S:NO | Destination | Average salary | Salary range |
| 1 | Business Intelligence (BI) Analyst | $86,123 | $64k – $113k |
| 2 | Business Intelligence (BI) Architect | $107,182 | $85k – $136k |
| 3 | Business Intelligence (BI) Analyst | $67,982 | $54k – $89k |
| 4 | Business Intelligence Consultant | $82,231 | $57k – $147k |
| 5 | Category Manager | $82,424 | $59k – $102k |
| 6 | Data Analyst | $62,337 | $51k – $77k |
| 7 | Software Engineer | $77,163 | $68k – $93k |
This course will surely act as a block breaker in your carrier. Once you completed this course you may find number of offers.
We hope you will understand about how we train you in this course. Let your carrier start with our Hope Tutors. All the very best for your bright features. Be with hope and be with our Hope.
Course Reviews
5 stars

10

4 stars

6

3 stars

0

2 stars

0

1 stars

0