BizTalk Server Training
Microsoft BizTalk Server is an Inter-Organizational Middleware System (IOMS) that enables automated business processes in companies. companies using adapters for tailored to communicate with different software systems used in an enterprise. BizTalk Server provides enterprise application integration, a message broker, and business activity monitoring. We are proud to say that Hope Tutors is a top-notch BizTalk Server Training center in Chennai. This course is designed to ensure that you learn & master the concepts of BizTalk Server. Our in-house BizTalk Server trainer is having trained and placed 100's of professionals. Our BizTalk Server Training course is 100% real-time with assured placement.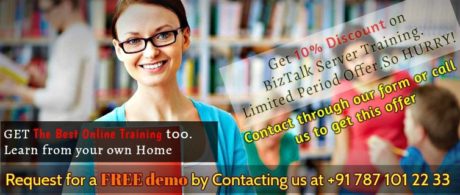 Best Online BizTalk Server Training
Online training has become an easy mode to learn by sitting in your location. Well equipped with Trainers and Technology to provide best online BizTalk Server training by Hope Tutors. We assure that you master in BizTalk Server with our training.
Who should attend BizTalk Server Training?
Fresher
IT Professionals
Dot Net Developers
Job Opportunity BizTalk Server
Professionals and Students with good BizTalk Server knowledge are in high demand in many leading IT companies. Whether you want to fast-track your career with a high salary or looking for a job abroad, learning BizTalk is an ideal choice.
BizTalk Server Course Certification
We will provide you BizTalk Server Course Certification under the name of Hope Tutors.
Reach us today through call/ email/chat to know more about our BizTalk Server Training and schedule the free demo. Hope Tutors wishes you good luck in your career growth.
Click here to read BizTalk Interview Question and Answers
Course Curriculum
INTRODUCTION TO BIZTALK SERVER
Basic Concept of BizTalk Server

00:00:00

BizTalk Server Development Environment

00:00:00

CREATING SCHEMAS
Introduction to BizTalk Schemas

00:00:00

Creating XML Schemas

00:00:00

Creating Schemas for Non-XML Messages

00:00:00

CREATING MAPS
BizTalk Map creation

00:00:00

Manipulating Data using Functoids

00:00:00

DEPLOYING BIZTALK APPLICATIONS
Deployment Fundamentals

00:00:00

Deploying Assemblies and MSI Packages

00:00:00

Working with Bindings Files

00:00:00

CREATING MESSAGING-BASED SOLUTIONS
Introduction to Message Routing

00:00:00

Configuring Message Routing

00:00:00

Monitoring BizTalk Processes

00:00:00

CONFIGURING ADAPTERS AND HOSTS
Integrating using Adapters

00:00:00

Managing Hosts and Host Instances

00:00:00

CREATING PIPELINES
Introduction to Pipelines

00:00:00

Building a Pipeline

00:00:00

BASIC ORCHESTRATION DESIGN
Introduction to BizTalk Orchestration

00:00:00

Building an Orchestration

00:00:00

ADVANCED ORCHESTRATION DESIGN
Orchestration Shapes

00:00:00

Logical Port Binding Options

00:00:00

Implementing Correlation

00:00:00

Invoking Orchestrations

00:00:00

ADVANCED ADAPTER USAGE
Adapter Basics

00:00:00

Configuring Two-Way Send Ports

00:00:00

MANAGING LOGIC THE BUSINESS RULES ENGINE
Fundamentals

00:00:00

Tools and Tasks

00:00:00

INTEGRATING USING PARTIES AND EDI
Role-Based Integration

00:00:00

Introduction to EDI

00:00:00

EDI Developer Tasks

00:00:00

EDI Administration Tasks

00:00:00

ENABLING BUSINESS ACTIVITY MONITORING
Business Activity Monitoring

00:00:00

BIZTALK SERVER I0N THE CLOUD
Running BizTalk Server Applications in the Cloud

00:00:00

BizTalk Server Cloud Services

00:00:00
Course Reviews
5 stars

5

4 stars

0

3 stars

0

2 stars

0

1 stars

0