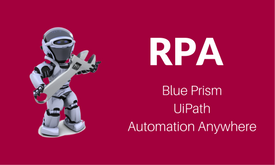 RPA JOB OPPORTUNITIES
Preamble
Robotic Process Automation is emerging as a determining force of robotic software and artificial intelligence (AI). RPA is quite extraordinary in its approach to alleviate the age-old problems of working industry: man power in industrial settings and the resulting human errors that causes financial and commercial losses.
Is man power no longer needed?
So the modern software organizations are switching to the robotic work processing and adapting RPA as their work ethos. The human skills become more crucial in monitoring, decision-making, delivering insights, and services to the customers in the realm of RPA. However, contrary to the popular fear that RPA will completely lay off the human intervention in businesses, business magazine Harvard Business Review relieves us of that pointless fear by stating that "People who worry about job losses to automation tend to overlook the unprecedented data explosion businesses are experiencing. Workplaces will naturally gravitate toward teams of humans and robots working together to accomplish goals, each assigned the tasks for which they are ideally suited."
Now that is a good news! Instead of headcount reduction, RPA is a proponent of collaboration between humans and robots. In that same case study, Harvard Business Review explains that Telefonica, an European mobile communications provider, have had over a 650% of return on its investment over a period of 3 years by training only 4 people! This is a monumental achievement in human history.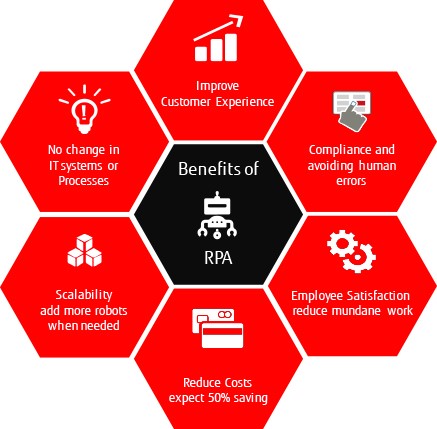 For instance, Amazon.com, a retail giant, has increased its robotic operation nearly 45 times more in just a short span of 3 years. But, at the same time, their human recruitment is on the soar. The graph below illustrates the point.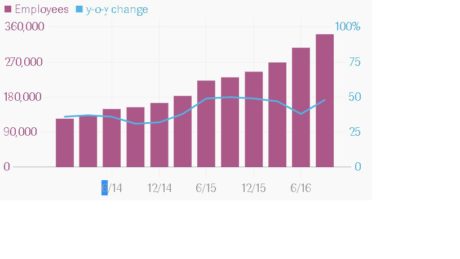 RPA – The New Wave in IT
As robots are assigned with menial, boringly monotonous, and repetitive works, humans are called 'knowledge workers' in the context of RPA. The truth of human being's cognitive intelligence plays the major role in RPA that facilitates creative tasks on the part of humans. Thus, the future of Robotic Process Automation is highly dependent on skilled RPA professionals who are the master bridges who connect the robot-human association in exceedingly demanding workloads.
And what's more, Daniel Dines, the CEO of UiPath (and UiPath is one of the leading RPA vendors), has opined that by 2021, nearly 2 lakhs RPA jobs are anticipated to be generated in India alone.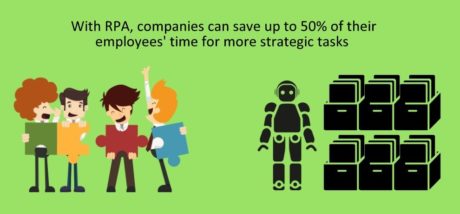 And it is a widely agreed fact that as IT stepping on this transition phase to this new ecosystem of RPA, it is crucial on the part of the employees that in addition to piling up knowledge on RPA and Artificial Intelligence, an aspiring RPA professional is expected to develop skills to deal with data, proficiency in mathematics, and data modelling. This sort of multi talent will take them beyond what they are hoping for.
McKinsey and Company has estimated that roughly 25% of the CEO jobs could be automated.
Why Hope Tutors, anyway?
Now Hope Tutors is a leading RPA course in Chennai. We have years of experience training amateurs and professionals alike in Robotic Process Automation. Besides the regular syllabus-oriented training, we provide additional skills like analytics, mathematical groundwork analysis, and data modelling processes. All these stuffs are given in sheer hands-on practical methodologies.
You are assured with 100% job placement guarantee in this rapidly evolving technological innovation.
Related Courses
Other Courses