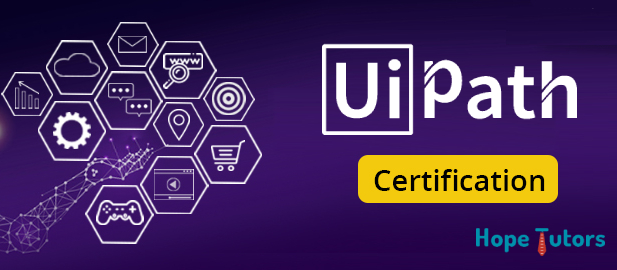 How to Get UiPath Certified in Short Span?
This blog is all about RPA and ways to get UiPath Certified.
Interesting topic covered in this blog:
RPA – Robotic Process Automation
Robotic Operating Team.
Environment and RPA Tools.
How to get UiPath RPA Certification in short span?
UiPath RPA Certification & Benefits.
Class Room/Online Courses – Best Institutes in Chennai
Hands on Projects
Robotic Process Automation:


In short form we can say the Robotic Process Automation as RPA. In India, we have wide opening for RPA. It is used to powering the new age technologies. Artificial intelligence is one of the best technologies which use RPA. Build cutting edge software solution with machine learning also use RPA. This is used to handle the large volume as well as repeatable tasks.


Companies with Retail as well as Banking has huge opening in RPA. Finance as well as Healthcare domain-based companies will also require RPA. They are in need to automate their process. This will help them to lower their cost. This will also help them to make their operation more efficient.


Robotics play a major role to bring the company vision as true. RPA is capable to empower the strategy of the company. It will also involve in increasing the values of the business. To achieve this, companies should develop RPA internal & self-sustaining it. They should have scalable RPA experts to run and maintain the robots.


The companies can embed RPA by using A Center of Excellence (COE). This is helpful in rework the gathered knowledge. This will also involve in the future deployment of the resources.


Robotic Operating Team:


Robotic Operating Team will work on the core of COE. This team will have a defined role as well as authority. It will help in implementing as well as managing the automation. This process is very fast, efficient as well as safe.
The Robotic Operating Team will consist of the following members.


RPA Sponsor:


They are responsible for establishing the technology. The technology is strategic priority as well as enterprise – wide. They are also responsible for the under writing the resource of the corporate.


RPA Developer:


They will play a major role in designing, developing as well as testing. The developer will also work along with the Business Analyst. Both will work together to prepare the detail documents about the process. They will assist the implantation and testing team to debug the issues. They will also assist the team during the time of maintenance.


RPA Business Analyst:


The RPA Business will involve in business operations. They will create the definitions for the process. They will also develop the process maps which automation will use.


RPA Champions:


They will be responsible for the adoption of the RPA in the industry. They are the guardian for the Robotic Process Automation. The RPA Champions will work as lead in the Operation management. They are the only responsible for the pipeline for the automation.


RPA Infrastructure Engineer:


They will be a part of deployment as well as future operation team. They will mainly work for the support of the infrastructure. Engineers will also support the installing as well troubleshoot. They will concentrate on the architecture of the RPA project. They are responsible for implementing the phase. Workshops for the infrastructure will lead by them.


RPA Supervisor:


They involve in managing, coordinate and control the virtual workforce. Their only motive is to improve the role of the robotics. They will involve in the operation performance. They will also responsible for the resource allocation which is in need.


RPA Service Support:


They will involve in the deployment for the RPA solution.


RPA Solution Architect:


They will define the architecture of the RPA solution. Architect will work in end-to-end solutions. They will involve in the development as well as implementing the phases. They select the appropriate tools as well as features.


RPA Change Manager:


They are the one who is responsible for creating the Change and contact plan. They are responsible for the delivery of the project. Managers will act as a catalyst in the transition process.


Technical Environment:


We should concentrate on the functional resource as well as technical tools. We should configure as well as clarify them in implementing the support. Mainly we should concentrate on the following areas. They are,


• Configuring Robotics.
• Performance as well as connecting.
• Maintenance as well as support.


RPA Tools:


RPA Tools are very popular. In simple words RPA is the use of the software with AI. RPA Tools helps in automating the inter-connection with GUI. It also can perform tasks based on the inputs.


RPA tools are very trending. It works in front-end as well as in back-end operations. This is the important reason for the trendiness of RPA Tools. Front-end operations will require the natural language processing. Back-end operations will require the structured data analysis.


Banking sector uses RPA tools. Maintaining the patient registration in hospitals uses this RPA Tools. E-commerce website as well as Logistics company uses this. Profile updates in social media uses the RPA Tools. These are some of the best real time examples of RPA Tools.


Blue Prism and Automation Anywhere are some of the best RPA tools. UiPath and Work Fusion are also most widely used RPA tools. These tools are very trendy in industries. The main advantage of RPA tool is, it will produce accurate and reliable values. It also delivers consistent output.


How to get UiPath RPA Certification in short span?


UiPath Certification & Benefits:


UiPath is a global software company. This is one of the best companies for developing the platform for RPA. This company provides training in the field of RPA.


Gaining knowledge in the field of RPA will make a turning point in your carrier. RPA training with UiPath will help you to get certified RPA professional. In this training you will learn about the basic concepts of RPA.


You will also gain knowledge about RPA tools for deploying the windows. This will be useful in creating the RPA bots. You will also come to know about the field application of RPA. You will also know about how to implement the RPA.


This training will boost up your carrier to its next level.


Topics covered in this course


a. UiPath Basic.
b. How to automate Excel?
c. Know how to manipulate Data.
d. User Interface automation.
e. Advanced UI automation.
f. How to automate Citrix Virtual Environment
g. Automate PDF & Email
h. Debugging and Exceptions


Benefits of the course:


Robotic Process Automation (RPA) is an advanced technology. This will automate huge number of redundant tasks by applying AI. It is very trendy technology in today's market. Banking and finance, healthcare, insurance, etc., uses this. This has wide benefits. They are as follows,


• Reliable.
• Customer-friendly.
• Low cost.


Do you know the starting salary of Robotics Engineer in US? It will be almost $92,862. The global RPA market is expecting to reach $3.11 billion by 2024. This is according to a new report by Grand View Research, Inc. There are more than 2,100 RPA jobs all over the world.


RPA with UiPath offers a complete as well as scalable solution. This will provide the specialized recorders for desktop as well as web apps. This will also provide an extensive activity library and powerful debugging. It will concentrate on the third-party integration. It will also cover the centralized server-based licensing.


Different ways to get UiPath Certification:


There are two important ways to start your career in UiPath. You can achieve this in short span of time.


Online Courses/Class room trainings: There are several online courses available for UiPath RPA. These courses are online videos. This covers all practical examples. You can buy these courses one time. You can learn at your flexible time.


Class room Training is another mode. This will help to interact with tutors. You will get chance to work with practical examples. Weekdays and weekend courses are available.


Most of institutes provide online courses and class room trainings. Hope Tutors is one of best institute in Chennai. It delivers this course both online and class room training. It helps you to learn RPA in very short span of time.


Hands on Projects:




SAP Automation: SAP is one of the best software to manage the business operations. It is also best for managing the customer relations. SAP GUI has elements as we have in Citrix environments. We can view this as a single block. With the help of this we can use a simple recording. We can also use automation tool with them.
We can use the following techniques which focus on SAP – specific approach. They are,


• Recording.
• Manual insert action of Click Text.
• Sending the shortcuts for keyboard actions.
• Text extracting.


First, we will learn how to enable SAP scripting. We can enable SAP scripting in system as well as in server. It will give Studio direct access to the SAP GUI. The techniques listed above will help in SAP automation with Studio.