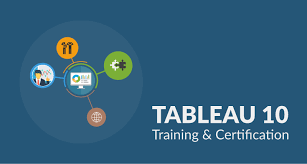 Tableau is regarded as the most popular & market leader tool. Especially in the Business Intelligence. That was used widely for the Visualizing & Analyzing the Data in the Laymans Format. Tableau gives more freedom to work. This will be on the data sets and minimize the data wrangling time.
What is Data Visualization and its role in the Organizations?
Data Visualization is projecting the data. This is into the diagrams, charts, pictures such that a non-technical person. It can also able to understand the key components of the industries. Basically, you are going to Visualize the Data. That is very useful as well as insightful for scaling the industries.
The Major advantages of data visualization are as follows. They are,
Quick Decision Making

Humans tend to understand the information more quickly. This is when presented visually. There is an edge for the Visual Data. Especially on a quick decision on the Business development.

Connecting Right Data

When the Data is presented visually. It is so much easy to find the connections between them. The overall performance & operations can be weighed on one scale. So that, we can adjust one to other for the right balance of the industries.

Finding the Trends

Data would certainly project the pain points. Also, finding the trends is so much easy. This can be used to scale the business and outsmart the competitors.

Fresh Discussions

As the fresh data gets rolled all over the board. The visual dashboards would always give the deeper levels of information. More importantly, segment-wise which is more beneficial for the industries. As they can dig deeper into customer behavior & improving their business goals towards it.
Also Read: Why Tableau is Used Ahead of Excel in Data Visualization?
What are the Tableaus Certification in the Market?

We have already discussed the different types of the Tableau Certifications. We would go deeper into the most importance of the certifications. Also, how to crack the exam very easily.
Before dealing with the strategies of cracking the certification exams. I would suggest learning tableau with the field experts. Also, opt for best the Tableau Course. Also, get fair coverage on the certification exams.
Focus on the importance of the Tableau Concepts. The complete resources like the Tableau Interview Questions. Also, get some advice on handling the pressure from the experts. The experts must have already completed these Certifications.
Tips to Crack Tableau Certification in Short Span
You should try sample questions. This helps you to become an expert. A good experienced person should give the very accurate answer. Also, they finish in 30 to 40 mins completely.
Do not hesitate to try out the sample questions. This would aid you to gauge your expertise. Well Experienced individuals would finish the exam in a short span. When compared to the people who are not trained enough as well as lacks skills. You can also check some training programs from the Tableau to boost the abilities extensively.