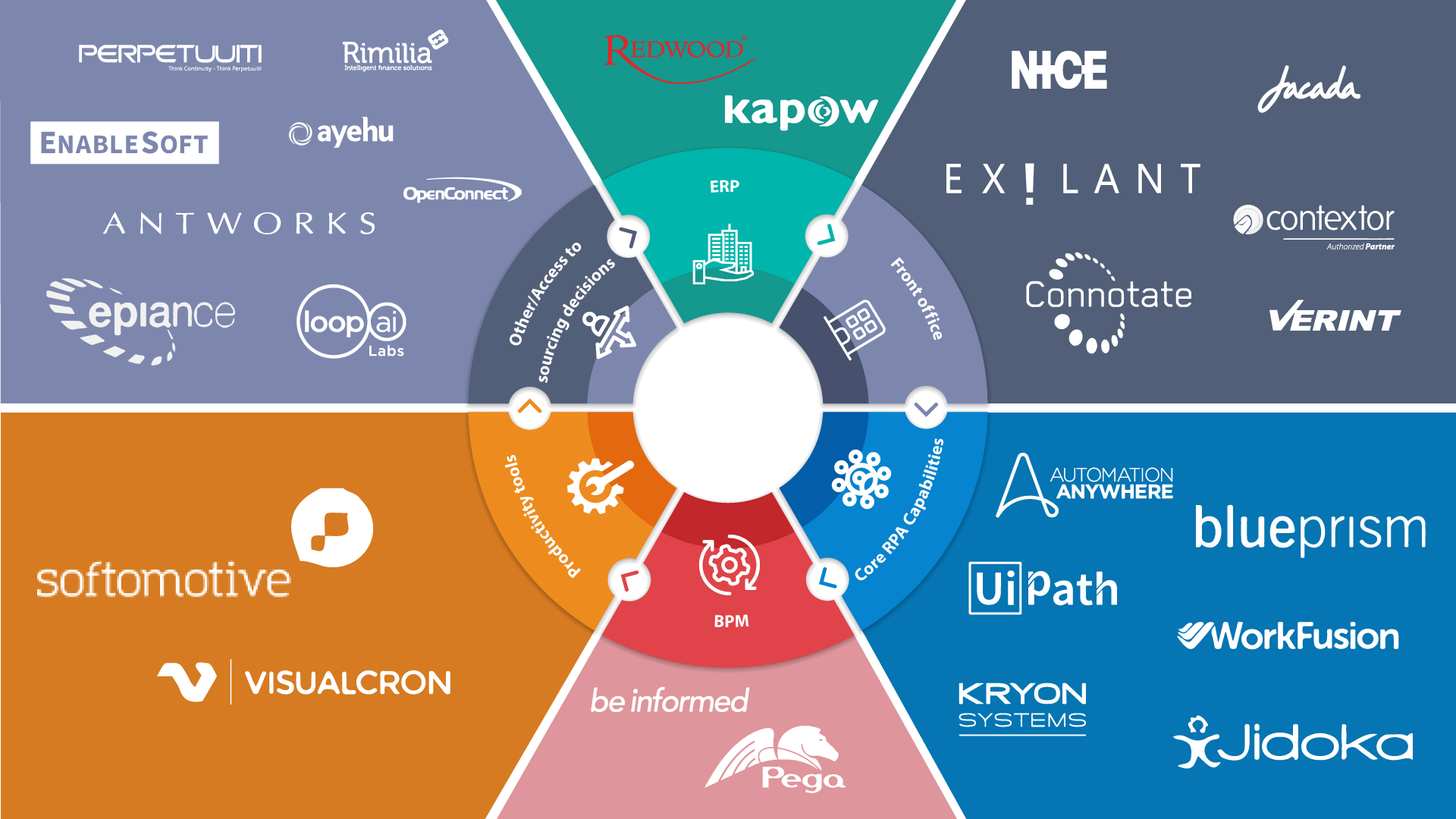 Top 10 RPA Tools In 2020
There are multiple tasks which repeats and also time consumes in the Organizations. Even though it is repetitive there we have always a chance of doing an error. This is to eliminate the errors & save time the tasks need to be automated. RPA was a software that is developed to perform automation tasks by the help of a bot.
Robotics Process Automation is developed majorly to eliminate human efforts and saves time. It is Platform Independent and Scalable application. There are several things to follow for a Successful Robotics Process Automation Journey as it takes better strategies and approaches. There is no need to learn programming for RPA as it was User Friendly and easy to use drag and drop to automate tasks.
What are the Types of RPA?
Following are some of the types of the RPA. They are,
Attended automations: The Tools that needs assistance of humans for performing the automation process.
Unattended automations: They do not need human intervention; they are intelligent & have the capabilities of the decision making.
Hybrid RPA: Combination of both the Attended & Unattended Automations Tools.
1) Blue Prism
Description:
Blue Prism is the Market Leader in Robotics Process Automation, it offers the worry-free workflow to the Organizations. It also provides the Quality Information that is beneficial to find the consumer behavior, real time analytics to improve the productivity of Businesses.
Features:
Multi-Environments Deployment Models Support
Encrypted Network & Software Management.
Multi-Platform and Multi-Application Support.
Pros:
High level speed executions.
Platform Independent
Cons:
Need to know something about the Programming
Expensive
Tool cost / Pricing: $15000 – $18000 yearly.
2) UiPath
Description:
All the Core Capabilities were offered by UiPath, and it can be easily handled by non-developers. UiPath Can also handle very complex process and it can be used for any business.
Features:
Secured Access Controls, Encrypted User Credentials which improves the overall security of Tool
As it Supports Citrix, it is faster than most of the tools
This is Open Platform that has vast community Support
Pros:
No need of Programming Skills
Drag & Drop for Automating Tasks
Free Cost
Cons:
Coding functionality is very limited.
Tool cost / Pricing:
UiPath provides community editions for free to Small and Medium Sized Enterprises.
UiPath Enterprises RPA: You can contact them to know about the details about pricing.
Also Read: How to Download and Install Uipath in Windows
3) Automations Anywhere
Description:
It too provides all the Core Capabilities. This is a tool of User-Friendly that fits perfectly for medium & large institutions.
Features:
It Offers Banks-grade securities.
It Offers Security through Encryption, Authentication and Credentials
It Offers Real-Time Analytics and Reports.
It is Platform Independent.
Pros:
It is user-friendly
Cons:
IQBot must need improvement.
Tool Pricing: You can contact them to know about the details about pricing.
4) Pega
Description:
The Pega only offers cloud-based solution / Service. It is used on the Desktop Servers. Pega is a Business Process Management tool that works on Linux, Windows & Mac. This is a Tailor made for medium & large business.
Features:
It helps you to deploy your solutions for customers.
It Offers Assistance in Deploy your Solution to the End users
It offers Cloud-Based Solutions
Everything would be Stored in Memory rather than in Database
It Distributes Work to Server, Desktop & Employees
Pros:
Due to Event-Driven Approaches, it is faster than other tools
Robust & Reliable
Cons:
No solutions for on-premise
Tool Pricing: It may start from $200 / month. You can contact them to know about the details about pricing. The company also provides free trial sessions.
5) Nice
Description:
The Tool has been named as the NEVA – Nice Employees Virtual Attendants offers the elimination of humans in repetitive tasks & improves the productivity of the business.
Features:
Nice provides attended & unattended server automations
It offers both Attended & Unattended Server Automations
This is Suitable for Back office and Finance Employees
It too offers Cloud-based & on-premise Solution
Pros:
It Offers Advance analytics.
Tool Pricing: You can contact them to know about the details about pricing.
6) Kofax
Description:
The Kofax works with applications virtually, there is no need of Coding Knowledge. It can able to Process any Desktop App, Website & Portal Data.
Features:
Most Efficient among the Other RPA Tools
Best Inbuilt Mechanism that improves the intelligence for Monitoring & Optimizing Process
Ability to Manage Centrally from Server
Integration with the Kapow Katalyst Platforms
Pros:
Can work very fast
Cons:
Learning is very difficult
Needs Improvement in their Training Resources
Tool Pricing: You can contact them to know about the details about pricing.
7) Contextor
Description:
It is perfect match for the front offices which are in any size. The Tool that is tailor made for large Size Front Offices. It also offers on premise & cloud services. Citrix was supported. All Types of Workstation Application are supported.
Features:
It communicates with active apps & with the apps which are minimized.
Supports Dual communication that is the active applications as well as minimized applications
Citrix & RDP Hybrid Virtualizations Environment were Supported
Advanced Analytics Reports
Pros:
It can work very fast.
Easy Integration with the AI
Cons:
It supports Windows OS only.
Tool Pricing: You can contact them to know about the details about pricing.
8) Rapise
Description:
Rapise offers the support for Hybrid Business Scenarios. It can easily automate the Web, Desktop and Mobile Applications. It can be easy for both programmers and non-developers. It offers only on-premise solution. This tool is perfect for small and medium organizations.
Features:
Supports Bigger Automation Projects
Open Platform for Enhancements and Integration
It also offers Support for Microsoft Dynamics Applications
Pros:
Non-developer friendly
Back up of Training and Certifications
Fast execution.
Cons:
Windows-only platform
Pricing:
$1,599 for the single user developer license with unlimited executions agent & unlimited support & 1-year free upgrades valid from the date of purchase.
9) Visual Cron
Descriptions:
This is best tool for Scheduling tasks and integration. The Con is it works only for Windows and there is no need of Programming knowledge to handle this kind of tool.
Features:
Options to Customize Tasks Based on the Technology
API Supported Programming
Build your Features based on your requirements
Coding independent and User Friendly
Pros:
Learning is very easy.
Cons:
Only Windows OS will support this.
Tool Pricing: You can contact them to know about the details about pricing.
They also offer free trial for 45 days.
10) Softomotive
Descriptions:
The Softomotive offers Enterprise Automations & Desktop Automations. The First one aid in improving all overall productivity & efficiency of the Organizations and the latter is for Individual & Small Team. It automates the desktop & task which are web-based.
Features:
It helps you from design processes to production process.
It offers the assistance from the Design to Production Process
It is Accurate and Secure
Easy Integration with the SAP, Salesforce and PeopleSoft Automations.
.Net & SQL Server Support.
Pros:
Very easy for using.
It works 5 times much faster than human.
Cons:
SQL server only supports this.
Tool Pricing: You can contact them to know about the details about pricing.
Conclusion
I would recommend the Blue Prism tool which is best among the industry, but it takes efforts and time to master it and it is also quite expensive.
For People who are not keen on learning coding for Automation, Uipath would be the right choice. Contextor is best for the Workstation Applications.
Also Read: Career Prospects and Future of RPA Tools in 2019