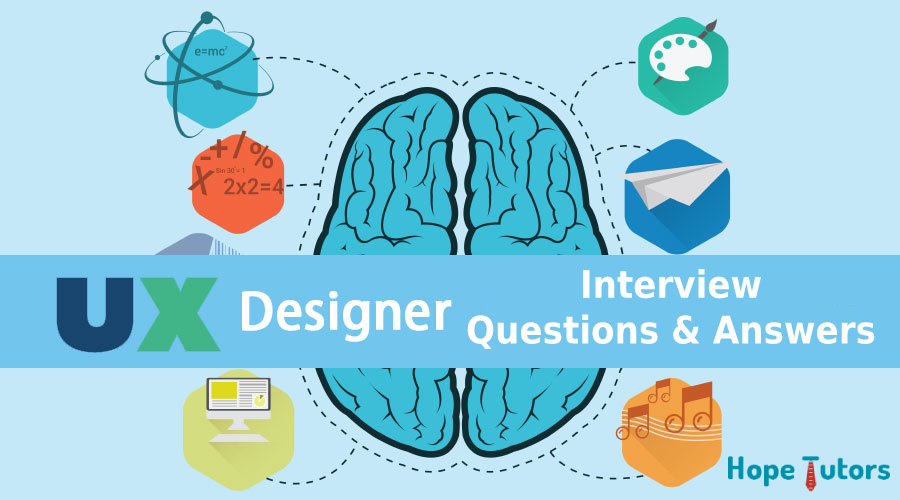 1.Define UX design or What is UX design?

A successful UX design could be defined as nothing but creating the best tool for a common set of tasks. It will make the user experience so seamless which means people can do the tasks without really noticing that they are using the tool.

2.List out example for tools to be used in design-workflow?

Generally, following are the tools used for design workflow

Discover —  Wufoo, Trello, Lookback, Google Docs.
Define—MindMeister, Lucid Chart.
Ideate — Illustrator, Balsamiq, Keynote.
Prototype — Illustrator, Photoshop, After Effects, Sketch, InVision.
Implement —  HotJar, Appium and Analytics from Google.

3.List out the differences in UX comparing to other design principles?

This question could be asked in a different way like "list out the differences between other design-fields (For example graphical design field and service-design field) and UX design field?". If you are focusing only on UI and your job is exclusively work on UI, you should be able to differentiate UX with other design fields. The main aim of UX design would be to make it very much useful to users instead of simply making the website as beautiful one.
You should also familiar with understanding how both designers would work for and what knowledge is required to deal with two difference design.

4.State the differences between user experience and information architecture?

Simply we can say UX is an art, science which integrates different type of elements. The objective of UX is to meet the requirements of client with an excellent design system. The design system is more interactive such that it helps us to understand the goals and objectives clearly and to deliver an effective and optimistic design.

Information Architecture (IA) is an art in which information structure, graphics, text and its compositions would be organized in optimized manner which will improve the user experience much better.

In summary, we could understand UX is a super set which requires multiple sets of skills in which IA (Information architecture) is one among them.


5.Can you draw an E2E UX-design?



6.Explain how you will change design for a famous website which requires a complete change in design e.g., Amazon, Instagram etc.

The following will give the needs to a complete change in design. This question is a tricky question which you are expected to explain with a opt answer. There are some pre-requisites before start thinking about change in design. They are 360-degree assessment and situation analysis. The situation analysis could also be mentioned as 5Cs.,
Amazon:Amazon is a very famous website used by variety of users every day. The change in design of this website should be done very carefully. The change in design should include both user perspective and also in merchant perspective. It includes how the user searches and how the search results are listed out. In mean time, how it is easy for merchants to post their products in website.
Craigslist:This website is all about the searching for jobs and all range of services. So, the change in design would be required in these prime area like search, listing out the search results. In mean time, the design change required in areas where user can post their own advertisements and manage their own account details.

7. Can you explain the process to design a mobile app for buying and selling products — home screen, profile, search, checkout, etc?

Following will give the process to design a mobile app for the product. They are,
Discover: The main goal is to build the best and easy to use mobile app for buying and selling products. For that we need to study and research some of the competitors such as Amazon and conduct UX research focused on our users. We want to also research about what is important to them.

Upon conducting UX research, most important features seem to be the ability to find the product that you are looking for, compare to others and purchasing the best option. Alternatively, for sellers, the most important features seem to be the ability to find similar products, compare price points, put up a product for sale and manage sales orders.
Define:  Develop end-to-end use cases for various common tasks, create story boards, Personas from the UX research, identify red routes and map out the entire experience journey for buyers and sellers.

Ideate: Develop wireframes for various use cases, screens, application flow and the entire experience journey.

Prototype:  Focus on the most important features and red routes to design visual, motion and interactive prototype.

Implement:  Develop, deploy and test the ideas, embed analytics to measure and optimize the performance.

8. List the design tools in your tool-belt and in what situations do you use one tool or method over another? Do you sketch with paper and pen, and will you be ready to prototype something in Sketch/Invision etc?

Generally, I will use the following tools. They are,
Discover — Trello, Google Docs, Lookback, Wufoo.

Define — Lucid Chart, MindMeister, Simple Card Sort.

Ideate — Balsamiq, Illustrator, Keynote.

Prototype — Photoshop, Illustrator, Sketch, InVision, After Effects.

Implement — Appium, HotJar, Google Anaytics.

9. How do you know that what you are designing is tailored for the user?
Can you give me a little bit about personas, usability testing, or grounding your design in data?

In simple terms we can say that personas are groups of individuals. It will demonstrate a similar pattern of behavior in terms of their usage, interaction and relationship with the product.
Developing specific personas for our product will allow us to relentlessly focus on the core types of users who is our target audience. Once these personas are developed, usability tests can be conducted using a variety of tools and analytics such as Appium, HotJar, Google Analytics.
There are three types of usability tests — moderated, unmoderated and guerrilla tests. On the more quantitative side, conducting customer segmenting, sampling with the appropriate confidence level, confidence internal, p-value and power allows you provide a reasonable coverage across our targeted population.

10. Did you have an opinion on flat vs skeuomorphic design?

Generally, both have their own place. For UX designs that are more focused on getting a task done without the interface being obvious, a flat, interface-less design provides an avenue to product clean and unobtrusive design. However, in the virtual reality and mixed reality worlds, where "presence" and "realism" have more significance, a skeumorphic design may have more appeal and relevance.

11. How do you come to know when your design is "done"?

UX Design is inherently an iterative process so the question isn't necessarily, "is the design done", but more appropriately, the question should be, "what is our overall roadmap and what is our immediate priority for this iteration so we can draw a line in the sand".

12. List the data have you used to validate a design?

Data used for informing and validate a design is different based on the stage of the design process. They are as follows.
Discover — Requirements Traceability Metrics.

Define —Use Case Metrics, Persona Metrics, Red Route Metrics.

Ideate — Usability Metrics, Accessiblity Metrics, Efficiency Metrics.

Prototype — Usability Metrics, Accessiblity Metrics, Efficiency Metrics.

Implement —User Metrics, Net Promoter Score, Downloads, Revenue.

13. Can you list some of the UX designs that inspire you?

Following are some of the UX designers that I inspire. They are,
Julie Zhuo (Facebook).

Daniel Burka (Google Ventures).

Bo Ren (Facebook).

Ximena Vengoechea (LinkedIn).

Frank Yoo (Lyft).

14. List some examples of your experience dealing with user research and usability testing?

In simple words we can say that user research is understanding of the users. A good UX designer will help you to design products that work well across a variety of use cases—from mobile to desktop, as well as a wide variety of audiences.
A UX designer should be able to elaborate on how they think of and engage user research. What 'lenses' do they use when conducting user research? These 'lenses' could be ethnographic studies, field studies and contextual observations, focus groups, surveys and diary studies.
They should mention details of how they set goals for the research and came up with a research plan. How they approached the organizational aspect, the recruiting of representative users—what kind of research questions they asked and how they analyzed the results.
While there is more than one approach to facilitating user research, the designer should have a clear description of the method, the sample size required to gain a meaningful result, and speak to the interpretation of the data.
Look for a UX designer who understands how to measure appropriately by selecting the minimum number of subjects needed to gain a valid understanding of the research and comprehends what they are testing and seeking to understand.
For usability testing the designer should discuss the methodologies they used.
Did they conduct structured one-on-one interviews with users while they tried specific tasks with product prototypes?

Listen for how they'd define a successful test, i.e. what key relations were gathered and how was the data distilled into practical, actionable insights?

Did they use moderated or unmoderated usability testing? (Unmoderated testing examples may include eye tracking, click tracking heatmaps, online card sorting exercises, etc.)

15. What are the biggest trends in the UX Design industry right now?

A UX designer who thinks ahead will be an invaluable asset to your company. He may talk about new use cases beyond screens—or how designing for accessibility is an area of interest for him.
He may discuss new prototyping tools that save developers and designers time by converting the design to code, or he may simply explain an evolving trend and how terrific it is to be at the forefront of technology. Whatever his answer, passion should shine through. Most of all, it's not about technology, it's about solving problems for users in new and efficient ways.
Ultimately, it's not about 'design fads.' A great UX designer doesn't follow them but designs products that have staying power and simply work well for end users.

16. Can you tell me the approach of you to making websites and platforms accessible to all user groups, including users with visual, hearing, and motor disabilities?

Accessibility is a huge topic for UX designers. Especially as screens begin to shrink and we consume and engage in content wherever we go. Designing digital products able to be used anywhere is paramount to a product's success; when our end user has specific requirements in terms of sensory constraints, the design should facilitate interaction and be even more empathetic.
Take notice if the designer is aware of and follows the World Wide Web Consortium's 'Web Content Accessibility Guidelines.' Have they performed an accessibility analysis on a previous project?
With a focus on accessibility, testing becomes especially important and should be comprehensive. An app or website should be simple enough to facilitate a clear end goal or user task, and innovative approaches should be used to ensure a user with a disability can interact with the product.
Some examples could include using voiceover commands to navigate websites and apps for people with motor disabilities, adding captions to a video which benefits people who are deaf and hard-of-hearing, making content easier to read by screen readers for the blind—or designing an option to use large typography for users with vision impairment.

17. When a client says: "I don't like this design." What will you do?

In a situation like this, a great UX designer exhibits thoughtful restraint. They will not take critique personally but use it as an opportunity to dig deeper and uncover the real reasons why a client may not like a design. Great UX designers are objective; they rely on tried and true principles, past learnings, white papers and studies, best practices, standards and design conventions that have been tested, studied and validated. Accordingly, they should be able to back up their designs based on the command they give.
Typically, in these circumstances, a misalignment has occurred between what the client was looking for and what the designer was trying to achieve. A great designer would take a step back and ask smart questions to uncover the issues a client may have with the design. Is the client being subjective as in, "I don't like that color?" The designer would inquire why, and make sure the client understands that design decisions are based on sound principles—color theory for example—and not subjective opinion.
Also listen for examples of when the designer backed up design decisions based on analytics data and testing (staying objective), and how they presented facts and findings to make their case.
Some of client feedback may be for compelling business reasons. For example, the client may feel that an oversimplified solution misses valuable opportunities for revenue-generating ad placement. A good designer would listen patiently and incorporate the feedback into the next iteration, understanding that arriving at the optimal design is a balancing act between business needs, technical feasibility and the designer's desire to create the best UX.

18. Is UX design will be same as UI design? What's the difference?

User interface (UI) design is not the same as UX design. A seasoned UX design pro understands the vital difference. It can articulate it clearly. Designing for the user interface often plays an important role in the work of a UX designer, but it is not the only function.
Whereas UI design is concerned with the effective layout of visual elements on a user interface, UX design is 'people first.' It's about what motivates them—how they think and behave.
A great UX designer should be able to demonstrate knowledge describing the differences. how UI design is only one slice of the UX design process 'pie', and only one of many different disciplines that reside under the UX banner.
These include but are not limited to a user-centered design strategy, core user demographic definition, persona creation, user research, information architecture, content strategy, interaction design, visual design and usability testing.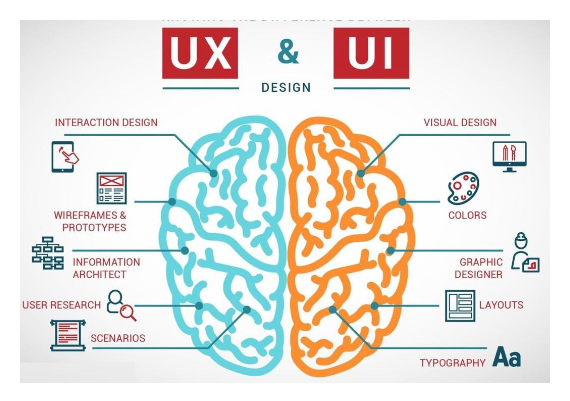 19. What does the term 'design-thinking' mean to you?

Design thinking is a human-centered approach. It is used to innovation which can draw from the designer's toolkit to integrate the needs of people, the possibilities of technology, and the requirements for business success.
Design thinking is a method for the generation of solutions and a practical, creative resolution of problems. It's about uncovering insights into the unmet needs of your target audience. It's a form of solution-based, or solution-focused thinking, with the intent of producing a constructive future result. Most of all it's a 'people first' approach—a design process mindset that designs products around people's needs, motivations, and behaviors.

20. What analytics tools and key performance indicators (KPIs) have you used to evaluate your designs?

Great UX designers generally seek to create experiences. It will intuitively work for a specific target audience. Garnering quantitative data on site usage or an application plays an important role in a UX designer's arsenal of UX success evaluation tools. Whereas user research typically focuses on qualitative data, analytics focus on quantitative data, such as identifying what actions users take when they come to a page.
There are many analytics tools and methods available that capture user behavior. For example: eye tracking, click tracking heatmaps and 'UI tagging' that tracks specific elements with which users interact on a page.
Do not focus on the software tool—listen for the why, the methods they used and what measurements they took. What key performance indicators (KPIs) were they evaluating against? For example, how many users moved through the onboarding process quickly or clicked on that sign-up button—how many set up 1-click ordering?

21. If a tasked is to be perform a UX evaluation of a product, what would your process look like to accomplish this? Can you tell me about a project you did this for and what the outcome of the evaluation was?

Working in a collaborative environment, UX designers must communicate effectively with many different stakeholders. One of the best ways to ensure is they are 'heard' is to deliver a killer presentation. For example, presenting research findings or recommendations as a result of a UX evaluation on a product.
Listen for how the designer will prepare the presentation. What process, tools and UX principles should they utilize to clearly communicate their findings and support their recommendations? A great presentation not only illustrates the solution but also connects the audience to the process by which the designer came to that solution.
If they carried out some tests and quantitative evaluations, what benchmarks and KPIs did they test against and how did they communicate those findings?

22. Can you tell me the ROI of investing in UX design? How would it improve my bottom line?

UX-driven product design is not just about creating a great user experience. It is also a smart business move. A great UX designer makes the case for usability—for designing great user experiences that work for people, as well as contributing to the bottom line.
They may illustrate why so many projects fail and must be redone, and how that costs an enormous amount of money. Or outline why investing in UX is a no-brainer if a product is to succeed in the marketplace. Or mention hard data from statistical findings and use examples such as '68% of users give up because they think you don't care about them' and '89% of consumers purchased from a competitor following a poor user experience'.
When talking about the return of investing in UX, they should also discuss success measures by including the calculation of cost savings in relationship to your overall return.
A great UX designer would discuss how investing in UX improves performance, reduces errors, increases ease of use, attracts more users, increases adoption rates, elevates the brand, increases trust in the system and user satisfaction, reduces development costs, reduces redesign costs, decreases support costs and reduces training needed, etc. which all increase the ROI.

23. Can you list me some of your favorite blogs of you in the industry?

Following are some of my favorite blogs in the industry. They are,
Alistapart.

Designmodo.

UX Booth.

UXMastery.

Digital Telepathy.

52 Weeks of UX.

UXMatters.

UX Myths.

Usabilla.

Intercom blog.

UserTesting blog.

Nielsen Norman Group blog.

Smashing Magazine.

24. State the difference between responsive and adaptive design?

The short version is that a responsive design which will react to the size of the browser. This is done at any given point in time and changes the layout as the browser width shifts and changes. On the other hand, adaptive design, changes the layout at specific breakpoints.

25. How do you stay current on UX innovations?

Following are some of the current UX innovations. They are,
UXBooth.

Dribbble.

Smashing.

DesignModo.
26. How will you evaluate a design and make a design decision?

This section of the interview might include a take-home exercise, a whiteboard challenge, or an app critique session.
This is part of your process. The interviewer wants to know how you come to a decision. Tell a brief story of a specific time you tested a range of ideas, and with the business and users in mind, you came to a solid design decision.

27. What is your favorite product or app? How will you improve it?

Since most people talk about Facebook or Spotify or Instagram. So, you try with something different and say that one of recent favorites is a Poker app by Zynga. It is one of the most successful mobile gaming in recent times.
It is not my favorite just for the way it looks but I am quite impressed by the whole academic of user behavior psychology packed into the app e.g. they will focus on the concept of micro-moments, micro-emotions and micro-wins extremely well. They know that for users to keep coming back to the app, the users need to feel engaged, delighted and experience the elevated feeling of winning semi-frequently. I believe the app does it beautifully.

28. How will you go about conducting research about some of the competitors of the company you are interviewing with and present your thoughts on their designs?

I will identify top 5 competitors. Then I will run the 5Cs situational analysis framework on each of the companies and perform SWOT analysis on each of their top products.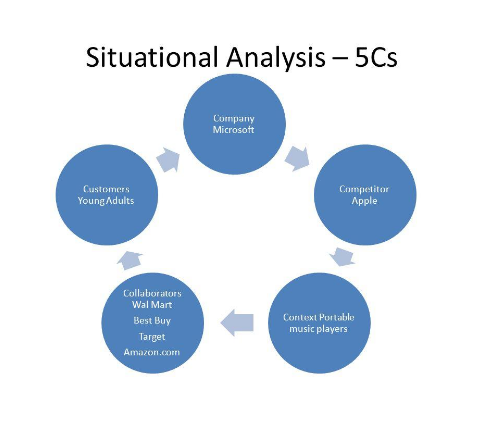 29. What do you think about responsive design matters?

Given the recent explosion in the different types of devices, platforms and displays. Which are being used by consumers. It will become increasingly important for product teams to develop a fluid user experience.
This will respond well to each user's device. Lack of responsive design could result in a significant drop in user engagement, sales, customer loyalty and brand popularity.

30. Explain the working on a streaming music project that is getting ready to launch a new design. Describe how you would begin creating a plan to research the new design and what it would include?

This question may be qualitative and quantitative. It will talk about applying appropriate methods to identify the best approach for creating a comprehensive plan.
Some of these methods include interviews, surveys, usability tests, card sorts, tree tests, A/B tests, persona generation, sample creation with appropriate confidence level and confidence interval and selecting appropriate power and p-value. Outcome of this UX research will allow you to focus on the most important aspect of your UX plan.

31. How will you begin your design process and how will you know you are on the right path?

You should focus on the UX design process outlined above and let the overall vision, strategy and outcome of the UX research dictate your course of action.

32. Why do you want to work here?

Following are some of the reasons for why I prefer this company. They are,
Brand.

Opportunities.

Talent.

Investments.

Culture.
33. Can you tell me the case studies about your recent UX work?

Use the STAR method. It should cover the Situation, Task, Action and Result which will provide an overview of your most recent UX work.

34. List me some of the current challenges that you face as a UX designer?

For the most part, one of the key challenges in UX design projects stems from the fact that key stakeholders do not always have a clear vision about the key goals, objects or the business requirements which results in a lot of ambiguity.
So, the "discover" and "define" phases are important in terms of getting on the same page as well as to further refine the objectives through conducting UX research, mapping out the experience journey, generating personas, developing red routes and visual storyboards.

35. How will you work with key stakeholders and team members such as engineers, product managers or other designers?

There are many UX design process frameworks. One of them which is included above, has 5 key phases. They are as follows.
Discover.

Define.

Ideate.

Prototype.

Implement.

Appropriate key stakeholders are identified for each of these phases such as Product Managers, Business Analysts, Sales, Marketing, Engineering and other teams. The key is to have strong communication lines across these various multi-disciplinary teams.
I also prefer using collaboration tools such as Trello, UX Pin, Invision, Sketch, Principle. Also, show don't tell philosophy always works — so creating quick interactive prototypes using these tools helps. The ability to empathize and understand the motivation of those you work with is crucial. Engineers, PMs, and other designers all come with their own needs and goals and if you can demonstrate your sensitivity to them, you'll be well received.

Engineers

I've found that providing especially close attention to interaction design and accounting for edge cases is important. Engineers are responsible for building the product — making sure that your interactions function properly for all use cases will save your engineer friends time and frustration. Also, try to speak their language — learn how to code. Being confident in HTML, CSS, and JavaScript is a great start.

PMs

I emphasize communication, storytelling, and tradeoffs. PMs manage deadlines, appeal to admins and keep projects running smoothly. Make sure you and your PM are sync'd. Being able to tell a powerful story about your design will also help to make their job easier when trying to persuade other stakeholders.

Designers

Show, don't tell. Focus your attention toward the design problem instead of individual design preferences. Working with other designers is an incredible opportunity for collaboration and can push you to better work. When working with other designers, sometimes I like to practice pair design — it's a great way to develop shared ownership over the work and push your individual design limits.

36. Can you explain some of the main roles & responsibilities of a UI-UX developer?

Following are some of the main roles and responsibilities of UI-UX developer. They are,
Gather and evaluate user requirements in collaboration with product managers and engineers

Illustrate design ideas using storyboards, process flows and sitemaps

Design graphic user interface elements, like menus, tabs and widgets

Develop UI mockups and prototypes that clearly illustrate how sites function and look like

Create original graphic designs (e.g. images, sketches and tables)

Prepare and present rough drafts to internal teams and key stakeholders

Identify and troubleshoot UX problems (e.g. responsiveness)

Conduct layout adjustments based on user feedback and adhere to style standards on fonts, colors and images

37. Tell me about your Experience in UX design?

This is a most frequent questions ask in interview. This question will help them to know about your interest in the field and your dedications. The interviewer wants to evaluate if you are fit for the project requirement.
Let's see how we must approach the question: First start with the roles in your past position and slowly add details to the conversation. Tell them about your contributions that made the project successful. The later questions are based on this question, so answer it carefully. You should also take care not to go overboard with a single aspect of your previous job. Keep it simple and to the point.

38. What is the biggest challenge in your carrier so far? And how did you overcome it?

When you are cornered with this question means that they want to know about your skill in facing the challenges and how you handle and solve the critical bugs. They even want to know about the potential of dealing with the failures. This is because guaranteed to crop up in every role and they want to make sure that you will not struggle or crumble to cope when they give you handle critical issues.
Think carefully and answer this question. Tell about the critical issues which is encounter by you and the output of these challenges which is done by you. Even you can tell about the failure issue and knowledge you gain from the issue and how you handle it.

39. Can you tell me about yourself?

Mostly in any interview it will be your first question. It will be start of the interview. It sounds like a conversational icebreaker, but there's a little more to it than that.
This is your moment to introduce yourself and share a bit of background. Bear in mind that, while it's a broad question, the interviewer is most interested in your journey to becoming a UX designer. Try to keep your story as relevant as possible, linking back to the role you're applying for whenever it makes sense to do so.

40. Tell us about your most (or least) successful UX design project?

This is essentially a more UX-specific way of asking about your strengths and weaknesses.
If the interviewer wants to hear about your most successful UX project, they are really looking to gauge where your strengths lie. Talk about why the project was so successful in your opinion, and the contribution you made to the outcome. What strengths of yours did this project draw upon or bring out? You can also talk about measurable results here, such as an increase in sign-up rates; this is a great way to show how your work contributes to business goals and the bottom line.
If they ask about your least successful project, they are keen to suss out your weaknesses. Be strategic here: while you should be honest, you still want to paint yourself in a good light. Talk about where the project went wrong and the challenges you faced, but also how you overcame them and what you learned. Show that you can acknowledge your failures and turn them into something constructive; those are the kinds of UX designers that businesses want to hire!

41. Can you explain the concept of Using statistics on small sample sizes?

It is one of the most common misconception that is extremely hard to break. You do not need a sample size in the hundreds or thousands or even above 30 to use statistics. We regularly compute statistics on small sample sizes. It will be generally less than 15. It will find statistical differences.
We are limited to only seeing large differences in our measures, such as 30% to 50% differences; however, in most early design stages we care the most about those large differences.

42. Explain Power in UX?

It is another common misconception that is extremely hard to break. We do not need a sample size in the hundreds or thousands or even above more than 30 to use statistics. We regularly compute statistics on small sample sizes. This may be even less than 15. It will find statistical differences.
We are limited to only seeing large differences in our measures, such as 30% to 50% differences; however, in most early design stages we care the most about those large differences.

43. Define the p-value?

In simple term we can say that the p-value stands for probability value. It is the probability difference that we observed in a study which is due to the chance. In other words, we can say that the p-value the punch line as it is usually one of the only things a statistical test will spit out. Some examples of p-value are .012, .21 or .0001; a p-value of .012 indicates that there's a 1.2% chance the difference observed between products is due to chance.
Given that this is a pretty low percentage, in most cases, we will conclude it is not due to chance and call it statistically significant. By convention, journals and statisticians say something is statistically significant if the p-value is less than .05. There's nothing sacred about .05 though, in applied research, the difference between .04 and .06 is usually negligible.

44. Can you define Sample Size?

Sample size calculation remains a dark art for many practitioners. There are many counterintuitive concepts which will include the power, confidence and effect sizes. One complication is that there are different ways to compute sample size. There are generally three ways to detect the right sample size. They are as follows.
Problem Detection.

Comparing.

Precision.

45. Can you explain the Confidence intervals get wider as you increase your confidence level?

A confidence interval is one of the most plausible range for the unknown population mean. But you cannot be sure an interval contains the true average. By increasing our confidence level to 99% we make our intervals wider.
The price for being more confident is that we must cast a wider net. That is, if we want to be sure we have an interval that contains the unknown completion rate or average satisfaction rating then we need to make the interval wider.

46. Can you state the weaknesses of personas?

Personas is one of the great tools for design evaluation. However, there are some serious concerns with them if we did not handle it properly.
Personas driven by premature data: Personas should be accurate regarding the goals and pain points. If these are doctored with a lot of assumptions, then there is a greater percentage of failure.
Loss of empathy: Personas dwell on Perspective taking which, in psychology which mean that the process by which an individual looks at a situation in an alternate point of view. However, it is empathy that you need to come up with great designs. You should be emoting like the users.
Perspective taking is a cognitive and intelligent reaction while empathy is an emotional reaction. Often, I see designers getting analytical and logical while evaluating their designs using personas.
Making use of personas is an ability: It is very true. If the designer did not have the ability to think and emote like the end users, personas can pose problems. The designer would be designing for himself rather than for the intended audience.

47. Can you list the top 10 of Today's Biggest UX Challenges?

Following are the top 10 todays biggest UX Challenges. They are,
Gathering Marketing Data Without Interruption.

Complicated and Confused Chatbots.

Implementing Personalization that Converts.

Understanding the Implications of UX.

Product Showcasing.

Time Consuming Tweaks.

A/B Testing Inaccuracies.

Fix the Consumer Behavior Code.

Cultivating Customer Confidence.

Navigating the Hottest Trends.

48. Can you explain about gathering Marketing without interruption?

In these days, Marketing and sales teams will require all kinds of customer data. This will help to support their strategies and campaigns. However, their methods of gathering this information are often intrusive or questionable to the consumer. Consumer data collection is certainly not going away It is necessary for providing personalization and relevant content to customers. However, it must be done in a way that does not disturb the experience or put valuable information at risk.
Instead of asking for consumer data through opt-in forms or using cookies and monitoring systems, designers should test out more engaging and subtle collection methods. Using interactive content, such as quizzes, polls, or surveys is one easy way to gather valuable data.
Interactive web pages are known to have 500% higher engagement rates than static pages. It means designers can improve both data collection and the customer's experience through unobtrusive approaches.

49. Can you explain the Complicated and Confused Chatbots?

The use of chatbots has increased greatly over the past couple years. They are extremely helpful for customer service issues and boosting conversions. And while these virtual assistants have helped many companies provide instant support. They are not always the most user-friendly. In fact, 73% of customers who have had a bad experience with a faulty chatbot will not use them in the future, and 61% found them to be more frustrating to deal with and would prefer a human representative instead.
If chatbots are not sophisticated or smart enough to solve customer issues, they can inevitably lead to frustration, conflicting messages, or incorrect answers; all of which hurts the UX.
The chatbot must be focused on conversational UX, rather than just trying to solve an issue quickly or offering a witty response. This can be done by incorporating smarter AI systems that use machine learning to pick up on interaction cues and emotional intelligence. This technology helps chatbots to virtually "learn" which responses are appropriate and helpful for various situations so it can improve with every interaction.

50. Can you list the top 5 most common UX mistakes that designers make?

Following are the top 5 most common UX mistake that designers make. They are,
Large, Fixed Headers.

Thin Fonts.

Low Contrast.

Scroll Hijacking.

Ineffective Carousels.

51. What do you mean by metrics?

Metrics are standards of measurement assessing a websites or apps. Following are some of the measurements. They are,
Efficiency.

Performance.

Progress or quality.

It provides much more insight into the real problems which you are trying to solve.

52. What can metrics do?

Following are thing that metrics can do. They are,
They will tell you exactly about what the users are doing.

They will not able to tell you why the user is doing it? or how to make them stop?

They will tell you whether your design is better or worse than another? This is possible by conducting A/B testing.

53. What do you mean by UX metrics?

Simply we can say that UX metrics are one of the types of metrics. They will represent the user experience of a product which is very hard to quantify. But some useful frameworks will help us to measure user experience. Many of the big brands is using UX metrics. It will help them to improve the user experience of their products. For example: Some of the companies are Google, Airbnb and YouTube.

54. Can you draw the google heart framework?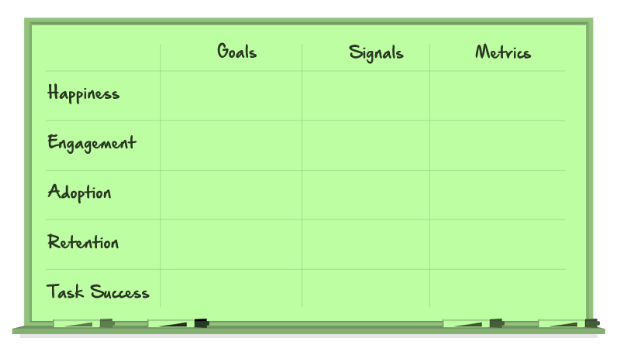 55. Can you give me the categories to brainstorm about from the user's perspective?

There are generally we have five categories to brainstorm about from the user's perspective. They are,
Happiness – Measures of attitudes, often collected via survey.

Engagement – Level of involvement.

Adoption – Gaining new users of a product or a feature.

Retention – Existing user return rate.

Task Success – Efficiency, effectiveness, and error rate.

56. What do you mean by user-centered design?

In short form User-centered design is known as USD. It is simply an approach to design. It will focus on the users through planning, design and development of a product. Its processes and strategies vary depending on the type of design project. This will be usually based on a combination of research and UX design activities.

57. Can you list out the process involve in the UCD Process?

User-centered design will change the way that we think of humans and computers. This type of design process will aim to actively involve the users at every stage of the design process for the development more effective, efficient and safe products. These stages will include the following.
Research & analysis.

Concept & strategy.

Design.

Development.

Implementation and testing.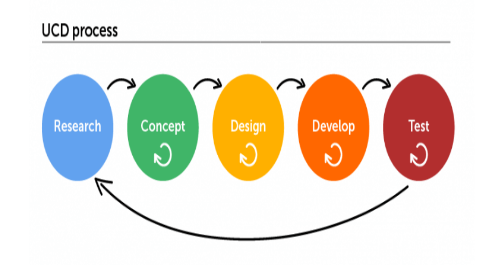 58. What do you mean by User eXperience (UX)?

According to the International Organization for Standardization, the exact definition of user experience is:
"A person's perceptions and responses resulting from the use and/or anticipated use of a product, system or service".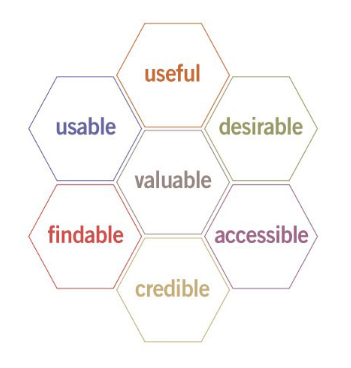 59. Can you explain how UXer Jesse James Garrett breaks the process of creating a user experience?

UXer Jesse James Garrett breaks the process of creating the user experience into 5 elements. They are as follows.
The surface plane – This is what the user sees on the surface of a website or mobile app, before they start interacting with it. For example: a series of web pages made up of images and text.

The skeleton plane – This will beneath the surface lies the skeleton of the site/app. This is where buttons, tabs, photos and blocks of text are placed. This will focus on optimizing the layout and arrangement of screen elements.

The structure plane – It will define how the user will arrive on a certain page and the arrangement of navigation items.

The scope plane – This will define how features and functions on the site/app fit together.

The strategy plane – It will deal with the strategy of the site. It is not only what design team wants to get out of the site, but also what the users' goals are.

All five elements of these elements need to be present in your interface to ensure great UX.

60. Can you list down the 10 UX design trends to look for in 2019?

Following are the top 10 UX design trends to look for in 2019. They are,
Switch from Flat Design to Material Design.

Voice-Activated User Interface.

Content-Oriented Experiences.

Personalized User Experience.

The Rise of the Video.

Timesaving, Simple Navigation.

Augmented Reality is Here.

Biometric Authentication is Becoming the Norm.

Design that's Device Agnostic.

Foldable Displays Demand More.

61. Can you explain how Amazon's UX makes it appealing for disparate generations?

Following will discuss the Amazon's UX which will make it appealing for disparate generations. They are,
Amazon's UX is search driven.

How has Amazon's UX changed?

Amazon's product pages reassure buyers.

62. What are the various visual homepage elements are influenced by the search function?

Following are the various visual homepage elements are influenced by the search function. They are,
Personalized recommendations.

Recent browsing history.

New products.

Shopping cart.

63. Can you draw the pyramid of UX?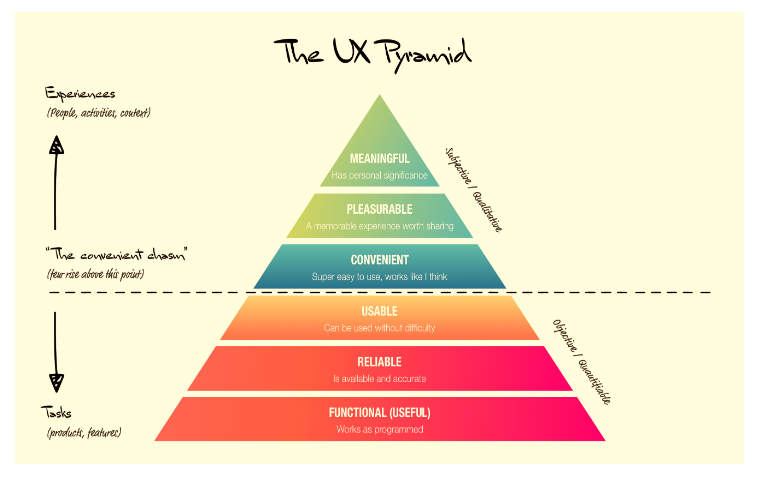 64. What do you mean by User engagement metrics?

User engagement metrics for apps will help the teams understand how much the value users find in the app. Each users time is a limited resource and if users find enough value in the app to spend time there, app creators can monetize that experience. User engagement metrics measure the value of engaging users.

65. Can you list the top 9 user engagement metrics for apps?

Following will list the top 9 user engagement metrics for apps. They are,
Active users (ADAU, MAU).

Stickiness.

Session interval.

Session length.

Time in-app.

Screenflow.

Retention rate.

Conversion rates.

Customer satisfaction (CSAT).