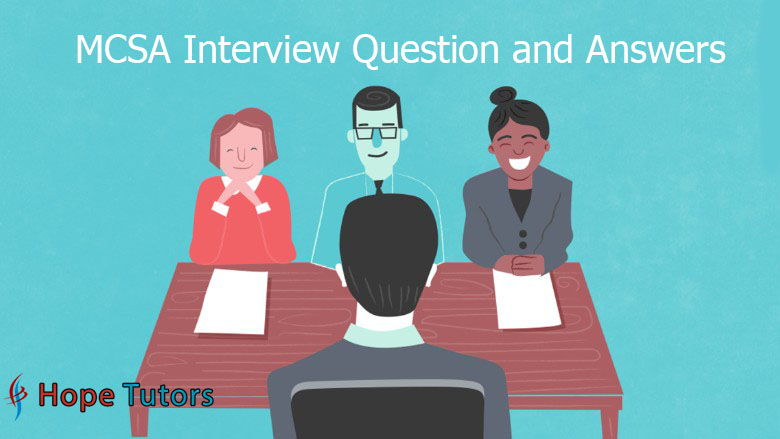 MCSA Interview Question and Answers
Question 1
What is an active directory?

Answer Active Directory is a consolidated and the condensed system that stores various information about objects in a given network and avails the users to make use of this information carried on to the network administrators and users.
Question 2
Explain Domain Controller?

Answer : The domain controller is a server system that incorporates the written copy that belongs to Active Directory database in an Active Directory environmental settings.
Question 3
Describe Global catalog server

Answer
:If a domain controller contains whole objects in the forest, then it is a global catalog server.
Like every domain controllers, a global catalog server stores thorough and writable copies of the schema and configuration directory separations and a full, writable copy of the domain directory separation for the domain that it is hosting.
Answer : Organizational Units (OU) are containers on a computer with the level of sophistication as in an administrative setting. It supports administrators to organize set of users together so that any alterations occur, security settings and any other administrative works could be fulfilled more effectively.
Question 5
What does Forest do?

Answer :A Windows forest is, in general, a set of one or more reliable Windows trees. The trees do not necessarily require an adjacent Domain Name System (DNS) names. A forest allocates a work plan and global catalogue servers. A lone tree can also be named a forest.
Question 6
What is a Tree in MCSA?

Answer : A Windows tree is a usually a set of one or more trusted Windows domains with adjoining DNS domains. In this case, "Trusted" connotes the idea that a validated account from one domain is not eliminated by another domain. "Contiguous DNS domains" is simply that they all have the similar root DNS name.
Question 7
Explain Site and Schema.

Answer
:
Site:
Sites are manually described associations of subnets. Objects in a site divide between them the exact global catalogue servers and can have a customary set of group planning applied to them.
Schema:
The schema describes the attributes, objects, classes, and rules that are available in the Active Directory.
Question 8
Why SID (Security Identifier)?
Answer :The SID is a peculiar name (alphanumeric character string) that is used to figure out an object, namely a user or a set of users.
Question 9
What are GPO, GPC, and GPT?
Answer
:
Group Policy objects (GPO):
A GPO is a collective Group Policy settings that are stored at the domain level as a virtual object comprised of a Group Policy container (GPC) and a Group Policy template (GPT).
Password history will store as follows:
Computer Configuration\Windows Settings\Security Settings\Account Policies\Password Policy.
Group Policy Container (GPC)
The Group Policy container (GPC) is an Active Directory container that has included GPO attributes, like version information, GPO status, and moreover a list of other element settings.
Group Policy Template (GPT)
The Group Policy template (GPT) is a file system folder that contains policy data mentioned by .adm files, script files, security settings, and information about applications that are accessible for installation. The GPT is situated in the system volume folder (SysVol) in the domain \Policies sub-folder.
Question 10
How to filter the Scope of a GPO?
Answer
: By default settings, GPO conditions all users and computers that are included in the connected domain, site, and organizational unit. The administrator can additionally point out the computers and users that are influenced by a GPO by using membership in security groups.
Ever since the arrival of Windows 2000, the administrator can append both computers and users to security groups. Then the administrator can mention which security pool is affected by the GPO with the help of the Access Control List editor.
Question 11
Explain Knowledge Consistency Checker (KCC).

Answer : The Knowledge Consistency Checker (KCC) is a Windows element that instinctively creates and manages the intra-site and inter-site copying topology.
Question 12
What is Intra, Inter, and Active Directory replication?

Answer
:
Intra-site Replication
The process of copying that takes place between controllers inside a single site. All of the subnets within the site must be linked by high speed network cables.
Inter-site Replication
Inter-site replication is a process of copying between sites and should be set up by an administrator. Simple Mail Transfer Protocol (SMTP) have to be used for replication between these sites.
Active Directory Replication
Replication must usually happen both (intra-site) within sites and (Inter-site) between sites to keep domain and forest data standardized and customized among domain controllers that store the similar directory partitions.
Answer
: When Microsoft Exchange Server is positioned in an organization, Exchange Server uses Active Directory as a data store and it stretches out the Windows 2000 Active Directory schema to equip it to store objects peculiar to certain Exchange Server.
The ldapDisplayName of the attribute schema ms-Exch-Assistant-Name, ms-Exch-LabeledURI, and ms-Exch-House-Identifier described by Exchange Server contradicts with the iNetOrgPerson schema that Active Directory uses in Windows Server 2003. When Windows Server 2003 Service Pack 1 is located and placed, Adprep.exe will be able to find out the existence of the schema conflict and hinders the updating of the schema until the problem has been restored.
Question 14
How GUID works?

Answer : When a new domain user or group account is generated, Active Directory stores the account's SID in the Object-SID (objectSID) property of a User or Group object. It also allocates the new object a universally unique identifier (GUID), which is a 128-bit value that is distinctive not only in the endeavour but also across the globe. GUIDs are specifically aligned to every object made by Active Directory, not just User and Group objects. Each object's GUID is stored in its Object-GUID (objectGUID) property. Active Directory uses GUIDs internally to figure out objects.
Refer related Interview Question and Answers