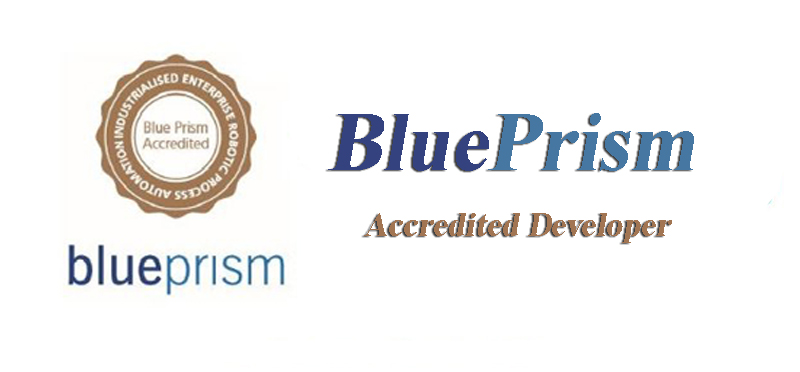 Blue Prism is undisputedly a trailblazer in setting the stage for the unprecedented process of automating the business process complexities. And Blue Prism has singlehandedly revitalized this innovative technology of Robotic Process Automation (RPA). In that process of educating millions and immersing them into automation, Blue Prism has succeeded and the tools they provide are reputed in the academia.
As Blue Prism Group is noteworthy for their first-rate training, it is even more important to note that they themselves recognize their students with certifying them by letting them taking the tests and thereby be certified with various Blue Prism accreditation. And the task of conducting the tests are taken care of by Pearson VUE, a global network that orchestrate these tests.
And here we are going to explore in detail the following:
How to be certified by Blue Prism-authorized test centers
what the Pearson VUE test is all about
Opening your own Pearson VUE account
Applying for the certification examination 
Blue Prism Course Certification Program
In the trail and tradition of Blue Prism automation, our HopeTutors provides scholarly sound and academically recognized Blue Prism training in Chennai. Besides the course training, we endorse our students to take the Blue Prism Certification Course from Pearson VUE, thus ascertaining their place in Blue Prism.
We want you to take a look at these following typical set of Blue Prism tests in your preview.
| | | |
| --- | --- | --- |
| Exam Code | Exam Name | Accreditation |
| AD01 | Blue Prism Developer (EN, SP, JP) | Developer |
| APD01 | Blue Prism Professional Developer (EN) | Professional Developer |
| ASD01 | Designing Blue Prism Process Solutions (EN) | Solution Designer |
| ARA01 | Blue Prism ROM Architect (EN) | ROM Architect |
| ATA01 | Designing a Blue Prism (Version 5.0) Environment (EN) | Technical Architect |
| ATA02 | Designing a Blue Prism (Version 6.0) Environment (EN) | Technical Architect |
| AIE01 | Installing and Configuring a Blue Prism (Version 5.0) Environment (EN) | Installation Engineer |
| AIE02 | Installing and Configuring a Blue Prism (Version 6.0) Environment (EN) | Installation Engineer |
The Registration process for Blue Prism Pearson VUE
The registration procedures to attend Pearson VUE tests are expounded here for you to follow. All the formulaic steps are described with the relevant screenshots of the Pearson VUE website so that you may not stumble.
The first step would be to register in Blue Prism through this portal:
https://portal.blueprism.com/user/register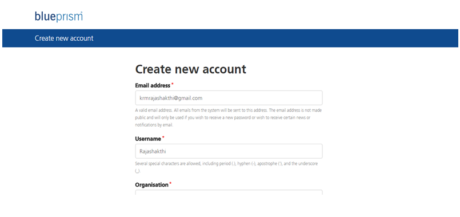 Once the registration is done, you will receive a unique username and a password to your registered E-mail account.

Through the given link you can customize your own username and password.
And then you will be given a new portal ID in your Blue Prism account page: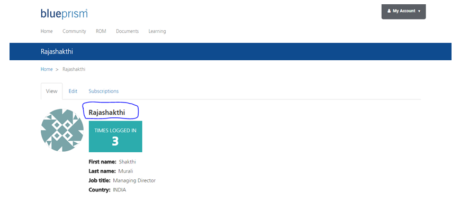 Only with this portal ID you can create your own Pearson VUE account.
There are 3 steps to be completed before opening your new Pearson VUE account.
Signing in
Profile Information
Create Account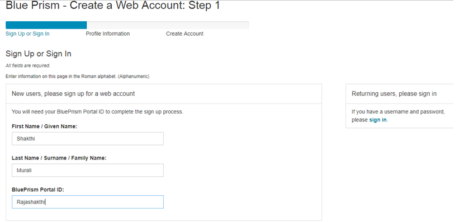 After through the creation of your new Pearson VUE account, you can see the message intimating of your new account.

Once the account is created, navigate through the website to select your preferred Blue Prism certification and you can schedule the test. The images follows: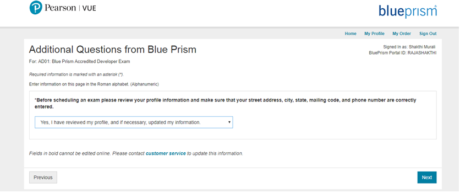 And choose the test center of your choice.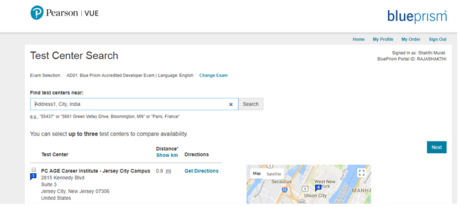 And eventually pay the test fee of 65 USD and you are done!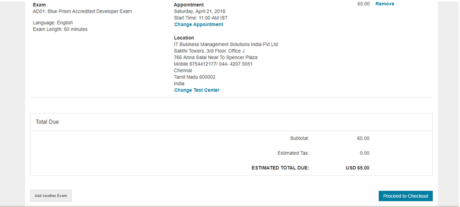 See, all the exam processes are as simple as that. Pearson VUE facilitates and simplifies the process so that you can take your tests in your nearby Pearson VUE test center.
In HopeTutors, we guide you to face the tests with much confidence.
Rise and shine!!