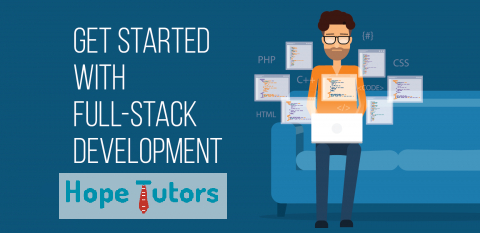 A full stack developer is a web developer who has excellent skills in both back-end & front-end web development. The front-end development indicates the user-facing software used for developing and handling different programming languages like CSS, JavaScript, and HTML. Whereas back end development indicates the application or website server side to develop and handle using various programming languages like PHP, Java, Python, and Ruby.
What are the job duties of a Full-stack developer?
Full stack developer works on the SDLC (Software Development Life Cycle) process which includes six important stages: Design, implementation, evaluation, analysis, development & testing, & documentation.
A software developer is preferred in many large IT organizations or digital agencies. They can also work as a freelancer on a contract basis like other Software developers.
Important responsibilities of a Full-stack developer includes
Website designing with the combination of software programming & Creativity.
Examining various requirement on the website project and designing features & solution
Testing codes for error and executing fixes & improvement
Testing development and processing validation
Collecting various requirements in the project by liaising with stack holders & client.
Utilizing computer hardware & software to write & make changes to the code in programming.
Utilizing the methodical & logic testing process to solve various issues
Executing the code to the live environment
What is the salary range for a Full-stack developer?
The standard salary range excepted for a Full-stack developer is between $110k & $130K. For NSW the salary range falls between $120k & $140K. In the case of VLC, the salary falls between the range of $110k & $130K. For WA, it falls between $110k & $130K. For QLD, the salary range lies between $105k & $120K. Its $110k & $130K for TAS. And the most common salary for SA full stack developer falls between $95k & $105K
What are the basic skills required for a Full-stack developer?
A Full stack developer should be capable of jumping to any application from their role without any significance overload. A Full stack developer should hold basic skills which help them handle issues in the Full-stack development process.
Few of the basic skills required.
HTML/CSS
Backend languages
HTTP & REST
Git, GitHub & SourceTree
JavaScript
Web Architecture
Web Storage & Databases
What are the job roles available for a Full-stack developer?
There is an infinite number of job roles available for Full stack developers. Some of them include.
Database Architecture
Front & Scripter
Server management
Backend Development
How to become a Full-stack developer?
Most of the company prefer computer science qualification for the role of Full-stack developer.
Complete a qualification in the field of computer science which is based on software development. It may be a bachelor degree or a Diploma of Software Development (ICT50715), or a certificate IV in Programming (ICT40515).
Complete an in-person or online course which helps to build your specialization in various programming languages.
Make sure to have placement in any of the internship programs during the study period. It will provide you with guidance, mentorship & relevant experience.
Full stack development has huge demand over different industries along with an excellent salary package. Therefore it is undoubtedly a promising career. If you have decided to start your career as a Full-stack developer, you should look for reputed & affordable Full stack development training institute like Hope Tutors to avail the comprehensive benefits. Drop your comments below in case of any clarification on the Full stack development courses and career prospects.