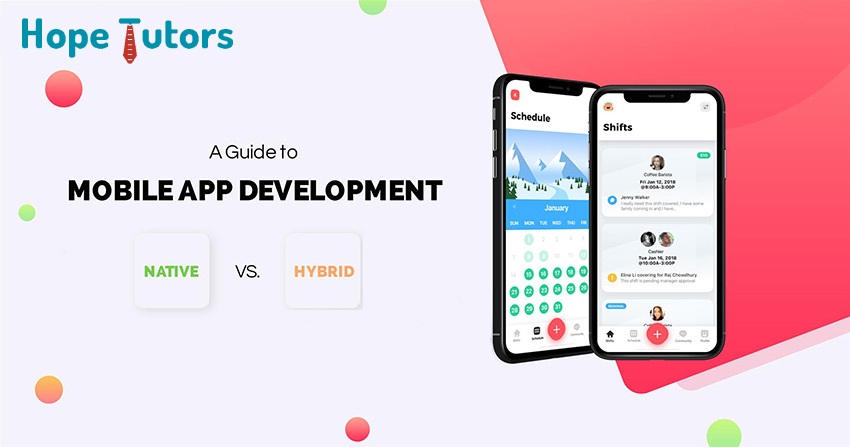 A Hybrid/Native mobile application is one of the software that is derived for smartphones and mobiles. Apps always have massive demand over the internet. Developers product applications for different businesses and services. Some best Mobile app includes voice recorder, simple flashlight, Google Map Navigation app, Dictionary and more.
What does the Native/Hybrid Mobile App Developer Do?
Some of the top responsibilities of the Hybrid or native mobile app developer includes
Write code for mobile apps for different operating systems.
Examine, develop, temp and optimize the app.
Make sure the functionality and quality of the app match the client requirements.
Analyzes designs and create interfaces for the applications.
Works on different specifications.
Develop different mobile apps for specific operating system or platform.
Works along with project managers, app developers, analysts, and software engineers.
Offers excellent support for the hybrid or native apps, solve out the queries around.
What are the skills required for a Hybrid or Native Mobile App Developer?
An efficient mobile app developer should possess the following skills.
Good Programming Skills.
Ability to work for an extended period to meet the deadlines.
Good experience in mobile app development.
Ability to communicate designs and ideas.
A capability of analytical thinking.
Should be a team player.
What are the Employment Opportunities available for a Hybrid/Native Mobile App Developer?
Candidates who have pursued Mobile app development course have massive demand in various financial institutions, internet-based businesses, IT companies, etc.
Hybrid or Native Mobile Application Developers Salary
Here are the salary details as per the statistics of payscale.com for mobile app developers & related positions.
Mobile Software Engineer: $102,000
Mobile Application Developer: $103,000
Android Application Developer: $117,000
Senior Mobile App Developer: $119,000
Java Application Developer: $101,000
iOS Software Engineer: $102,000
iOS Application Developer: $113,000
Lead Java Developer: $117,000
Javascript Jquery Developer: $124,000
What are the Mobile App Development Certifications available?
There are different certifications in mobile app development. Some of them include
ATC Android Certified Application Developer
Mobile Development Institute Certified Developer (MDICD)
Logical Operations' Master Mobile Application Developer (MMAD)
formerly Sun Certified Mobile Application Developer (SCMAD)
Google Associate Android Developer
IBM Certified Mobile Application Developer
Microsoft Certified Solutions Developer (MCSD): App Builder
Oracle Certified Professional (OCP): Java ME Mobile Application Developer
What are the job roles available for a Mobile App developer?
Mobile Application Developer
iPhone/iOS Application Developer
Software Engineer
Objective-C Developer
Android Application Developer
Windows Mobile App Developer
Java Application Developer
What is the future of Native/Hybrid Mobile App developers?
The demand for innovative and new mobile applications will always grow among mobile internet users. In this case, there will be numerous job opportunities available for mobile app developers. It can be on a freelancing basis or a full-time opportunity in a company. Finding the perfect position that opts for you is crucial to have a stable and excellent future.
According to many IT Managers and Recruiters, the demand for mobile app developers is more at present. The upcoming days, months and years will be the market for mobile app developers, and they tend to have a bright future.
Statistics states that 300,000 mobile app developers will be in demand by 2020. Xamarain, reactnative, flutter, angular with ionic are some of the useful technologies in mobile app development.
What are your views on Hybrid/Native Mobile Application Development? Share your experience with us through the comment section below.