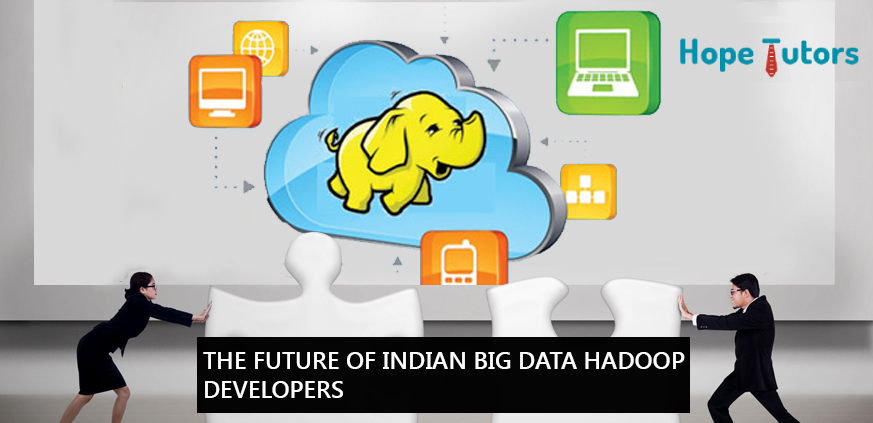 More than 2.5 quintillion bytes of data is getting generated every day. Among them, 90% of the data generation is recorded in the past two years. Based on this calculation, around 45 ZB of data gets generated by 2020 which shows that Big Data is growing tremendously.
According to the market study does by International Data Corporation Worldwide, the revenue of Big Data Analytics and Hadoop market will reach about $260 billion in 2022. A Markets and Market study estimated that the Big data analytics would reach $13.9 billion by 2017 and it successfully reached higher as expected.
Every company like retail organizations, financial firms, healthcare organizations, banks, etc hire high paid professional and talented Hadoop candidates. The demand for the Hadoop administrator and Hadoop developer jobs are high in startups which develops Hadoop to the business directly.
Companies like Apple, EMC Corporation, Google, Facebook, IBM, Hortonworks, Cisco, Oracle and more have plenty of Hadoop openings in every city in India, the most demanding Hadoop professionals like in cities like Chennai, Bangalore, Hyderabad, NC, and New Delhi.
What are the jobs available in Hadoop?
One common questions asked in the midst of programmers is that what are the different jobs available in Hadoop? So here are some of the different job descriptions available in Hadoop.
Hadoop Developer
The vital job responsibility of Hadoop developer is to write programs depending on the system designs, and it is essential for them to have good knowledge about programming and coding. The critical task for Hadoop developer similar to the software developer but you should make use of the Big Data domain. The other job responsibility of Hadoop Developers is to work based on the understanding of the programs and derive a solution to it, design and architect with excellent skills on documenting.
Hadoop Developer Job Responsibilities
The essential job roles of Hadoop Developer is to
Identify the flows in jobs.
Group relevant coordination service via Zookeeper.
Support different MapReduce programs that are running on the Hadoop group.
Manage and review log files in Hadoop.
To manage different jobs in Hadoop using the scheduler.
Skills required for Hadoop Developer
Good knowledge in SSchedulers like Oozie and Workflow.
Expert in writing HiveQL and Pig Latin Scripts.
The capability of dealing with different data loading tools like Sqoop and Flume.
What is the experience essential for Hadoop Developer?
Hadoop Developer should have 0 to 5 years of experience in Hadoop field to have a good scope and also to get a high range of salary.
Hadoop Architect
The job responsibility for Hadoop Architect includes
Design an effective working system
Manage entire Hadoop lifecycle.
Delivery experience and subject matter expertise on different Hadoop distribution platforms like MapR, Cloudera, and Horton Works.
Hadoop Architect Job Roles
Designing application customization and technical architecture.
Undertaking the proposed solution design and deployment.
Undertaking different analysis and related requirements.
What are the skills required for Hadoop Architect?
Knowledge on Pig, Hive.
Knowledge on HBase.
Good knowledge about HDFS and Hadoop Architecture including YARN.
Knowledge on Java MapReduce.
The experience needed for the Hadoop Architect is 8 years to get a good scope and a high salary on top-notch companies.
Hadoop Administrator Job Responsibilities
Hadoop Clusters screening and planning
Setting up new users in the Hadoop cluster.
HDFS support and maintenance.
Tracking security issues and connectivity.
The important skills of Hadoop Administrators include hands-on experience in HCatalog, Oozie, and Hive, good knowledge of HBase, and good scripting skills in the environment of Linux. 0 to 5 years of experience is need to see an excellent salary package in the Hadoop Administrators.
Other vital jobs include Hadoop Tester, Hadoop Analysts, and more.
Salary Details of Big Data Professionals
Data Analyst – Entry-Level $50,000 – $75,000
Data Analyst – Experienced $65,000 – $110,000
Data Scientist $85,000 – $170,000
Analytics Manager – 1-3 Direct Reports $90,000 – $140,000
Analytics Manager – 4-9 Direct Reports $130,000 – $175,000
Analytics Manager – 10+ Direct Reports $160,000 – $240,000
DBA – Entry-Level $50,000 – $70,000
DBA – Experienced $70,000 – $120,000
Data Engineer – Junior/Generalist $70,000 – $115,000
Big Data Engineer – Domain Expert $100,000 – $165,000
Conclusion
Hope the above details on Big Data helped you know about the various job opportunists available, their salary details and more in-depth. Drop a comment below if you have any queries on Big Data or Hadoop.